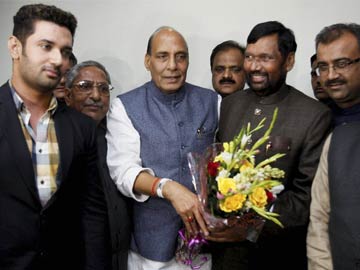 New Delhi:
Ram Vilas Paswan is back in the BJP-led National Democratic Alliance or NDA, 12 years after he had stormed out of it, criticizing
Narendra Modi
for his handling of the communal violence in Gujarat in 2002.
(Read)
After multiple meetings in the capital all day, BJP president Rajnath Singh announced late on Thursday evening, his party's alliance with Mr Paswan's Lok Janshakti Party or LJP for the national elections, due by May. The LJP, he said, will contest seven of Bihar's 40 seats.
"I am confident that the LJP and we will benefit from this alliance. It will strengthen the NDA not just in Bihar but the entire country," Mr Singh said at a press conference at his residence, Mr Paswan by his side.
The NDA gets, along with the LJP, the support of other Dalit leaders like Ramdas Athawale and Udit Raj, Mr Paswan said. On his U-turn on Narendra Modi he would only say, "As far as Modi
ji
is concerned, LJP is now a part of NDA and NDA has already declared Modi as its PM candidate... he is also from the extremely backward classes."
For the BJP, the return of Mr Paswan to the NDA is an important part of its campaign to demonstrate that Mr Modi, its prime ministerial candidate, enjoys more acceptability and can draw allies.
Mr Paswan is also said to command the fierce loyalty of about five per cent of Bihar's electorate.
Earlier today, the BJP's Ravi Shankar Prasad, Rajiv Pratap Rudy and Shahnawaz Hussain met Mr Paswan at his 12, Janpath residence; all three BJP leaders are from Bihar and have worked with Mr Paswan in Atal Bihari Vajpayee's cabinet.
Soon after, Mr Hussain's vehicle drove Mr Paswan's son, Chirag to the venue of another meeting.
Just last month, Mr Paswan had announced that his party, along with the RJD and the Congress, would contest the next Lok Sabha elections jointly in Bihar. But he was reportedly not satisfied with the way seat-sharing talks were shaping in that alliance.