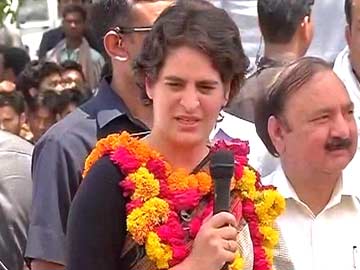 Raebareli:
Priyanka Gandhi Vadra
has for the first time addressed the issue of the allegations of corruption against her husband,
Robert Vadra
. In the midst of the election, while campaigning in Uttar Pradesh, she told voters, "My family is being humiliated, there are things that are said about my husband. The more they humiliate us, the stronger we become. I am saddened by the attacks, but I have learnt from Indira Gandhi that the truth becomes courage," she said, referencing her grandmother and former prime minister, to whom she bears a striking resemblance. (
Watch
)
The Congress is headed by Priyanka's mother, Sonia, and her brother,
Rahul Gandhi
, older by a year, is leading its national campaign in an election that it's widely expected to lose. Priyanka, 42, is not running for Parliament, but is managing the campaigns for her mother and brother in their constituencies in Uttar Pradesh.
The BJP is expected to win the maximum seats and its prime ministerial candidate,
Narendra Modi
, has in his rallies dared the Gandhis to explain what he describes as a sensational leap in the fortunes of Mr Vadra, an 45-year-old entrepreneur whose business interests include real estate. The opposition- including Aam Aadmi Party leader Arvind Kejriwal - allege that the Congress government in Haryana bent the rules to assign sweetheart land deals to Mr Vadra, bestowing him with windfall gain. (
Narendra Modi attacks Gandhi family over alleged land deals of Robert Vadra
)
"Obviously she (Priyanka) is defending her husband and is unhappy as a wife, but people are also unhappy with the money he has made. Let him return the money and her unhappiness will also end," was the acerbic response of BJP spokesperson Meenakshi Lekhi to today's comments by Priyanka.
The Haryana government has denied the charges that Mr Vadra was given special treatment, and a few months ago, the Supreme Court refused to order an investigation into Mr Vadra's property deals, stating a person "can't be called a sinner merely because he is linked to a politician."