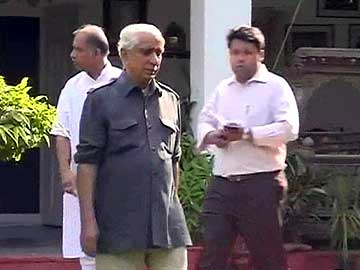 New Delhi:
Colonel (Retd.) Sona Ram Choudhary, recently imported by the BJP from the Congress, is confident he will "pacify" senior leader
Jaswant Singh
, whose dream to contest from his home constituency he nixed this evening.
Mr Singh, 76, had reportedly told the BJP leadership that he wanted to contest what is likely to be his last election, from Barmer, the constituency in Rajasthan where he was born. The BJP has ignored that and is instead fielding Col Choudhary, a retired Army man who defected to the party earlier this week.
After his candidacy was announced, Col Choudhary said, "Jaswant Singh is very senior. We will pacify him." And added for good measure, "I will personally meet him."
Jaswant Singh has reportedly threatened to contest as an independent candidate from Barmer if the party does not field him from the seat.
It was Rajasthan Chief Minister Vasundhara Raje whose vote swung the ticket in Col Choudhury's favour. She argued that as a Jat, he could be a big draw in Barmer, where Jats are the dominant community. Mr Singh is a Thakur.
Ms Raje also reportedly hopes that fielding the Colonel will help the BJP get Jat support in adjoining constituencies. The Chief Minister's stock in the party is high ever since she handed the BJP a clean sweep of Rajasthan in state elections four months ago.
However, the move has upset a section of BJP workers in Barmer who were backing Mr Singh. They are upset over supporting a former Congressman, who they had once fought elections against.
The former army officer has represented Barmer in Parliament earlier, but was defeated in the 2004 election by Mr Singh's son Manavendra Singh, who is now a member of the state legislature. The Congress did not field Colonel Choudhary from Barmer in 2009; Manvendra lost that election to the Congress candidate.
Jaswant Singh has never contested from Barmer. He won Lok Sabha elections from Chittorgarh in Rajasthan in 1991 and 1996, and from Darjeeling in West Bengal in 2009.
The party's refusal to give in to Mr Singh's demand comes soon after the BJP's seniormost leader LK Advani accepted, after a 24-hour sulk, the party's diktat that he must contest from Gandhinagar in Gujarat. He had wanted to contest from Bhopal in Madhya Pradesh.