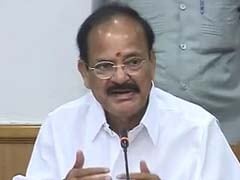 New Delhi:
Creation of 100 smart cities and reducing interest rate on home loans to ensure housing for all will be the focus of the new Urban Development and Housing and Poverty Alleviation Minister (HUPA) Venkaiah Naidu.
Urban Development Ministry will also give priority to linking of twin cities and infrastructure development of satellite towns and cleaning of religious cities across the country.
"Housing is a priority area and it is my passion. My priority will be to ensure housing for all by 2020 and to reduce interest rate on home loans," Mr Naidu said in new Delhi today after assuming charge of the ministries. (
Also Read: Venkaiah Naidu, Former BJP President, is the New Parliamentary Affairs Minister
)
He said that during the Atal Bihari Vajpayee regime, interest rate was brought down from 11 per cent to 7 per cent. Now it has gone beyond 10 per cent.
Terming "affordable housing for all by 2020" scheme as his "most favourable agenda", Mr Naidu said, "People of the country should be in a position to have 'pucca' houses for each one of them. It is not an easy job. But is possible. We have to make serious efforts for it. Seeking cooperation from corporates, he said,
"I want PPP (Public-Private partnership), CSR (corporate Social Responsibility) and corporates to take care of their staff in housing. We want state governments to participate in it. Municipal bodies also should join us in this mission for housing for all.
"I also want PSUs like LIC, banks, railways, even Defence to not only take care of their serving persons but also their ex-staff also."
He said he would be taking up the issue with Finance Minister Arun Jaitley soon.
With NDA (National Democratic Alliance) assuming power the JNNURM (Jawaharlal Nehru National Urban Renewal Mission), one of the flagship programmes of UPA (United Progressive Alliance) government, is coming to an end and there will be a new programme to develop infrastructure in cities, he said.