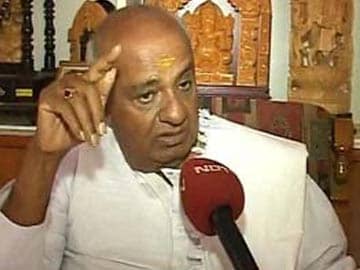 Bangalore:
Former Prime Minister and Janta Dal(Secular) or JD(S) supremo HD Deve Gowda will be attending Prime Minister (designate) Narendra Modi's swearing-in ceremony on Monday.
"Deve Gowdaji has received the personal invitation of Narendra Modi and would be attending swearing-in ceremony..." JD-S spokesperson Ramesh Babu said in a statement.
Earlier, while congratulating Mr Modi for his achievements in the Lok Sabha polls, Mr Gowda said he must ensure the development of the entire nation and live upto the expectations of the people of the country.
In the run-up to the elections, Mr Gowda had stoked a controversy saying, "He (Modi) can never reach his numbers. If he achieves it, then I will take political sanyas", challenging Mr Modi and his team to prove their claims.
Mr Gowda's party secured two Lok Sabha seats including his from Hassan.