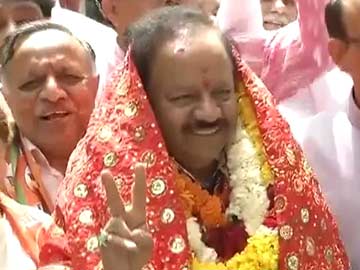 New Delhi:
Harsh Vardhan, who has been rewarded with a berth in the Union Cabinet, is the lone face representing the national capital in Prime Minister Narendra Modi's team.
Delhi had three representatives - Kapil Sibal, Ajay Maken and Krishna Tirath in UPA government. Mr Maken had resigned from the Cabinet in June last year.
Mr Vardhan, who is president of Delhi BJP, was the party's Chief Ministerial nominee in the assembly polls held in December last year when it emerged as the single largest party.
Arun Jaitley, who was today sworn in as a Cabinet minister, is a resident of Delhi but represents Gujarat in the Rajya Sabha. He had unsuccessfully contested Lok Sabha election from Amritsar where Congress' Amrinder Singh defeated him.
With 60-year-old Vardhan becoming Union Minister, sources in Delhi BJP said the party may have a new state unit president.
He is credited with uniting various factions in Delhi BJP and leading the party's aggresive campaign for Lok Sabha polls in which it recorded a clean sweep of all the seven Lok Sabha seats in the national capital.
The sources in Delhi BJP said the party may soon appoint a new city unit chief as it has been pressing for fresh assembly polls in the national capital.
The Arvind Kejriwal government had resigned on February 14 after suffering a defeat in the Assembly on the Jan Lokpal Bill. President's rule was imposed in Delhi following the 49-day rule of the Aam Aadmi Party government.
In the Assembly polls in December, AAP had won 28 seats and it was given outside support by eight Congress MLAs to form the government.
BJP, along with one SAD candidate had 32 MLAs in the 70-member House, but had refused to form the government citing lack of majority. JD-U had won one seat while another seat was won by an Independent.
As three BJP MLAs were elected to Parliament, its strength in the assembly will come down to 28.