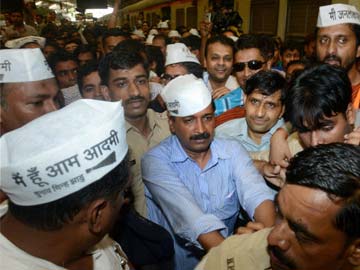 Mumbai:
A First Information Report or FIR was filed against Aam Aadmi Party chief
Arvind Kejriwal
by the Mumbai Police at Mumbai Airport police station today.
In the FIR, filed by the police, the 45-year-old leader and his colleagues have been charged with disobedience and unlawful assembly during Mr Kejriwal's three-day roadshow in Maharashtra. (
See pics
)
Yesterday, the Mumbai Police fined the driver of the auto-rickshaw which ferried Mr Kejriwal to the suburban Andheri railway station from the airport for violation of the Motor Vehicle Act by carrying more than three passengers.
According to sources, police also slapped a fine on those autos which were part of Mr Kejriwal's convoy under the same provision. (
Mumbai auto driver who drove Kejriwal fined by police
)
Today is the second day of AAP's three-day roadshow across Maharashtra ahead of the Lok Sabha polls, beginning next month. Mr Kejriwal cancelled his public meeting in Chandrapur Lok Sabha constituency due to ill health.
"Kejriwal was unable to travel to Chandrapur as planned due to ill health. The meeting will be conducted under the leadership of Anjali Damania along with Raju Bhise, Vijay Pandhare and Pratibha Shinde," the Aam Aadmi Party state office said in a statement.
However, his schedule for Friday in Nagpur will continue as planned.