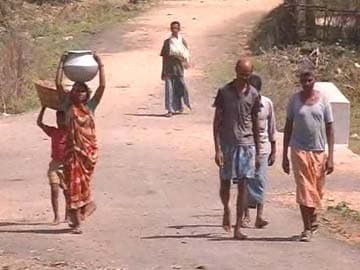 Pachleva Village, Jharkhand:
When NDTV visited the Naxal-hit Pachleva village in Jharkhand's Palamau Lok Sabha constituency in 2009, it was in the grip of a crippling drought. From farmers contemplating distress sale of their buffaloes to others lamenting the absolute lack of basic infrastructure in their village, the scenes here were desperate.
Now all these years later, the drought may have been over, but not much has changed here - the village still has no electricity, there is just one well for the entire village and the closest hospital is 30 kms of bad unpaved roads away. And so, the prospect of yet another election is something the villagers aren't very excited about.
"Politicians come here and say all kinds of things but nothing good happens for us. Who do we go to?" Charitar Parhaiya, a farmer, told NDTV.
The Jharkhand government blames Naxals in the forests for the lack of development; it alleges they harass and threaten contractors and officials.
When NDTV met one such group at a location deep inside the district, the area commander of the outfit denied the government's allegations. "They eat up the money and blame us. We don't want boycott of the elections. We want the people to make an informed choice," he said.
His argument though isn't very convincing given the fact that Naxals often target government infrastructure, particularly school buildings, in the state.
Palamu is not the only area in Jharkhand grappling with Naxalism. Almost all districts in the state face the problem. But the irony seems stark here given that a major electoral fight in the constituency is taking place between a former Naxal commander and a former police officer.
Fear of Naxals means not many candidates campaign in these remote areas. While the BJP's V D Ram, former Director General of Police, is not sure about if and when he will campaign here, the Trinamool Congress' Kameshwar Baitha, a former top Naxal commander, seems confident of being able to reach here. The Rashtriya Janata Dal's Manoj Bhuyan, meanwhile, already started his campaign here.