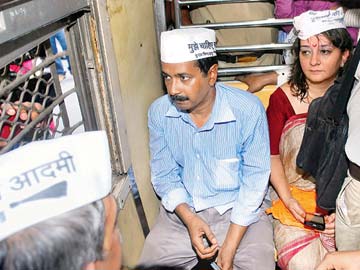 Mumbai:
"Is this how people travel in Mumbai?" asked Aam Aadmi Party (AAP) founder Arvind Kejriwal to other senior leaders of his party, when he came to Andheri station yesterday. Kejriwal, along with hundreds of AAP supporters, caused chaos at Andheri railway station.
With over 5 lakh commuters coming in and out of there daily, the additional influx of AAP supporters and media persons made it worse. Kejriwal took an auto rickshaw from the airport to Andheri station. A convoy of auto rickshaws followed Kejriwal from the airport to Andheri station, some of them carrying more than the allowed limit of three passengers. Three auto rickshaw drivers have been booked for violating the law.
P P Temkar, senior inspector, Vakola police station (traffic) said, "Three auto rickshaw drivers have been summoned.
The vehicles numbers are MH-03-BN-3011, MH-03-BA-7055 and MH-02-RA-3988. They have been booked under Section 21 (20) of Maharashtra Motor Vehicle Rules/177. The drivers have committed breach of provisions of Motor Vehicle Act." Each of these rickshaws carried four to five passengers including Kejriwal in one of the rickshaws.
Boarding at Andheri
He reached Andheri station around 11.15 am on the east side, not before shouting slogans and sitting near poles of the skywalk. With the AAP supporters, congested road traffic and auto rickshaws, police and the traffic cops struggled to maintain law and order. The former Delhi CM went to platform number 2 around 11.20 am. Several of his supporters were hustled with the media, and the huge crowds threatened to turn into a stampede
People were standing on the stairs of FOBs, climbed ladders of eatery counters and pillars supporting the roofs to click pictures of Kejriwal. The few railway police officials there proved to be less as compared to the supporters there. The entourage boarded the 11.26am Andheri-Churchgate train, which blasted its horns continuously as it entered the station.
A couple of railway policemen accompanied the motorman as the train pulled in. By then, people who until now were chanting slogans in praise of Kejriwal and against Congress and BJP, started getting in.
Funnily, Kejriwal was standing in front of the ladies' compartment and in the whole chaos, almost entered. People shouted for him to stop and he eventually managed to board the second-class compartment, where he sat next to the window, facing the Borivli-end. His supporters sat and stood around him.
Camera crews climbed onto the seats, backrests and other areas to get a good bite or picture. The situation had become so chaotic that railway police had to stop common men from boarding this compartment right from Andheri itself.
As the train started within a couple of minutes, people began jumping on top of one another to get a glimpse of the leader. The police force seemed too less to tackle the crowds; there were barely four inside the coach. Gradually, more cops boarded from further stations.
"He asked me whether this is how people travelled in Mumbai," said Mayank Gandhi, AAP's candidate from Mumbai North West constituency. Some journalists and photographers felt dizzy and alighted at in-between stations. While other compartments were comparatively less crowded, one could hear people grumbling about politicians travelling in the train and inconveniencing people at large.
Chaos at Churchgate
After the train reached Churchgate station, problems continued for the commuters, as his followers began running around the platforms, so as to ensure 'protection' for Kejriwal. In the melee, many people jumped from one platform to the other. Yet another stampede-like situation arose, as other trains started pulling in and people started alighting in the limited space on the platforms.
As Kejriwal reached the concourse on the Marine Drive end, the huge crowds dragged along a couple of Door Frame Metal Detectors (DFMD), which fell onto the floor.
"There were too many people who tried to come out at the same time. So the DFMDs got displaced. But, they were soon put back and are now operational," said Nitin David, spokesperson, Western Railway. Kejriwal then left for Nariman Point for some meetings.