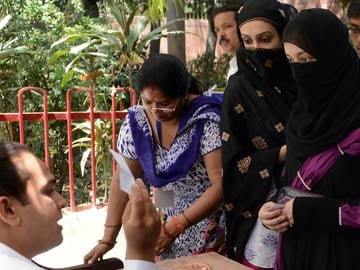 New Delhi:
A staggering 8.2 million people in Delhi exercised their franchise for 2014 general election on Thursday, breaking all records of the past three decades, the Delhi Election Commission chief said on Friday.
The turnout in the capital Thursday was 65.05 percent, with the highest 67.13 percent being recorded in the Chandni Chowk parliamentary constituency.
"Thank you Delhi for making us proud and breaking all records of three decades. The total turnout was 65.05 percent in Delhi. It broke the record of the last three decades," Chief Electoral Officer Vijay Dev said.
He added that the voting broke the record of not only the parliamentary but assembly elections too.
As many as "82,65,000 people exercised their franchise and broke the record of the December assembly election in which 78,75,000 cast their vote," Vijay Dev added.
Providing details of the constituency-wise polling, he said Chandni Chowk recorded the highest of 67.13 percent polling as compared to 55.21 percent in 2009.
East Delhi recorded 65.59 percent voting as compared to 53.44 percent in 2009, Northeast Delhi 63.08 percent as compared to 52.39 percent, New Delhi 65.03 percent as compared to 55.83 percent, Northwest Delhi 61.38 percent as compared to 47.44 percent and West Delhi 66.03 percent as compared to 52.47 percent, and South Delhi 62.98 percent, he added.