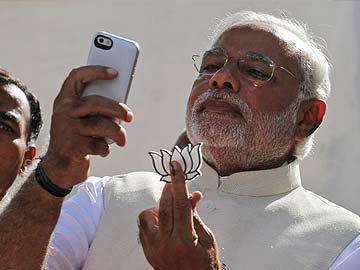 Ahmedabad:
A local court on Thursday sought the probe status report from the police regarding the first information report lodged against BJP's Prime Ministerial candidate Narendra Modi for violation of the Representation of People Act on April 30.
On April 30, Mr Modi had addressed a press conference immediately after he cast his vote at a school in Ranip area of Ahmedabad and displayed the BJP's symbol, lotus, during the press conference.
The magistrate court's directive came on an application filed by Nishant Verma, a worker of Aam Aadmi Party (AAP), who was one of those who had filed complaints against Mr Modi.
Additional Chief Judicial Magistrate M M Sheikh ordered the Detection of Crime Branch to file a reply about the progress of the FIR filed on April 30 and also about Mr Verma's grievance that the FIR was "incomplete" by May 21.
Mr Verma has claimed that he filed the application before the state police on April 30 seeking action against Mr Modi and others but the police lodged an "incomplete" FIR. He contends the DCB official in an email reply said the FIR was registered but they had not pressed the section 130 of RP Act and sections 114, 171 (c) and (f) of IPC. Mr Verma wanted to press these sections too.
On the directives of the Election Commission, the crime branch lodged the FIR against Mr Modi on April 30 under section 126 (1)(a) of the RP Act for holding a public meeting and under section 188 of IPC for violating election notification.
Under section 130 of the RP Act, a person is prohibited from canvassing or exhibiting any notice or sign relating to the election within the polling station premises on the day of election while IPC section 114 is about the role of an abettor present when the offence is committed.
Section 171(c) fixes the culpability of a person who interferes with the free exercise of any electoral right, thus committing the offence of 'undue influence at an election'. Section 171(f) prescribes punishment of one year's jail term or fine, or both, for this offence.