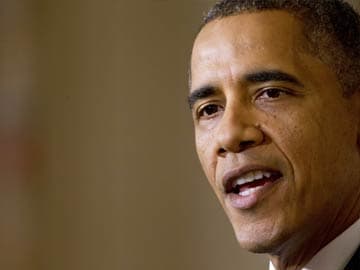 Gandhinagar, Gujarat:
United States President Barack Obama on Friday called up Indian prime minister-designate Narendra Modi and congratulated him on his "emphatic election victory", officials said.
Mr Obama said that the largest democracy in the world has given a "decisive mandate" and that he wished that under Narendra Modi's leadership, India will contribute significantly at the global stage.
Both leaders discussed the India-US Strategic Partnership and the prevailing global economic situation.
This was the first high-level contact between Mr Modi and the US leadership ever since 2005 when the Gujarat chief minister had been denied a US visa due to his alleged complicity in the 2002 riots in the state.
Mr Obama joined a number of world leaders including British Prime Minister David Cameron, Pakistan Prime Minister Nawaz Sharif, Afghan President Hamid Karzai, Bangladesh Prime Minister Sheikh Hasina, Sri Lankan President Mahinda Rajapaksa, Australian Prime Minister Tony Abbott and Israeli Prime Minister Benjamin Netanyahu who have congratulated the Bharatiya Janata Party leader on the overwhelming win in the general elections.