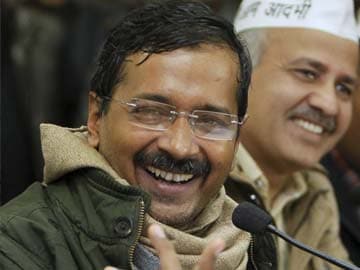 New Delhi:
Arvind Kejriwal
's Aam Aadmi Party will field more than 350 candidates in the general elections due by May, with a focus on challenging politicians accused of crimes, the party said today.
The priority, AAP said after a meeting of its national executive in Delhi, will be to field candidates against 162 legislators that it alleges have "criminal backgrounds."
AAP is expected to release the first list of candidates by February 7. The party today said it will fight the elections in 15 to 20 states, including Delhi, Haryana and Gujarat where it will contest on all seats.
Until now the party had not said how many of the 543 Lok Sabha seats it might contest in an election pitting the Congress-led UPA coalition against the BJP's Narendra Modi. Only the two major parties have fielded those many candidates in recent national elections.
Following the year-old anti-graft party's strong performance in the Delhi election last month, interest in AAP has surged. Since the announcement earlier this month that it would contest the general election, its membership, it claims, has passed 1 crore.
While surveys and polls have suggested that AAP is unlikely to win more than a dozen or so seats, its success in Delhi has shaken up the national race, with both Mr Modi's BJP and the Congress aping AAPs anti-elite, anti-corruption language. (
AAP fails to stir enthusiasm in Modi's Gujarat
)
Even a small clutch of seats for the AAP could be enough to deny Mr Modi a chance at forming a government, and could give AAP chief Arvind Kejriwal, who is the Delhi chief Minister at the head of a minority government, a say in national policy.
"The most important thing is there are a large number of cabinet ministers who have indulged in corruption, they need to be defeated," Mr Kejriwal had said in a recent interview to Reuters.
He did not say how many, or which, government ministers would be a target.
In the last parliamentary election in 2009. politicians accused of crimes had a higher success rate.