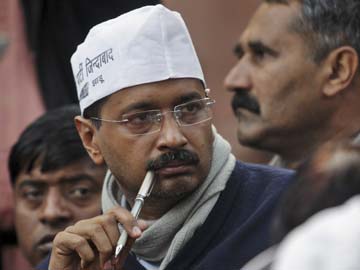 New Delhi:
Delhi Chief Minister
Arvind Kejriwal
today proclaimed a series of top national leaders as corrupt and said his Aam Aadmi Party (AAP) will target them in the national election.
Two of the politicians he named- union minister GK Vasan and Nitin Gadkari of the opposition BJP - have warned that they will sue him for defamation unless he apologizes. "He should have added his own name to the list," offered the BJP's Ravi Shankar Prasad. (
Read: Gadkari sends defamation notice to Kejriwal
)
Mr Kejriwal is unlikely to be shaken by the criticism or the threats of legal action. His indictment of 24 allegedly corrupt leaders was delivered at a large public meeting of AAP workers. His "India's Most Corrupt" list included Congress vice-president Rahul Gandhi and senior ministers like Kamal Nath, Farooq Abdullah and Kapil Sibal.
AAP announced yesterday that it will contest 350 of the 543 Lok Sabha seats, and will make a special effort to put up strong candidates against incumbent MPs with criminal records. Opinion polls predict it will not win more than a dozen of parliamentary seats, but its impact has already forced the Congress and the BJP to push transparency and combatting graft to the top of their campaign agendas.
AAP's branding as a party committed to expunging corruption and focusing on accountability has caught the imagination of the urban middle class at a time when the union government led by the Congress was enveloped in financial scams.
Mr Kejriwal led his one-year-old party to a blockbuster debut in the state elections in December in Delhi; after it formed the government in the capital, AAP is provoking interest in other parts of the country.