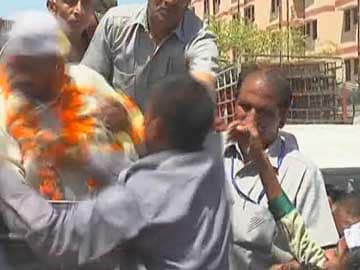 New Delhi:
Arvind Kejriwal
, the chief of the Aam Aadmi Party or AAP, was slapped today by an auto-rickshaw driver while campaigning in Sultanpuri, north-west Delhi. He was later seen sitting at Mahatma Gandhi's memorial Rajghat with a swollen left eye.
Mr Kejriwal was in an open jeep when a man in a blue shirt reached up and first garlanded the AAP chief and then struck him hard on his left cheek. The attacker was immediately tackled to the ground by AAP supporters; he is in hospital after being beaten up by them.
(India Votes 2014: full coverage)
"I forgive those who attack me. Assault me as much as you want, I won't retaliate. I appeal to volunteers not to retaliate, otherwise there is no difference between us and them," Mr Kejriwal said later, insisting that he still doesn't want security. (
Despite repeated attacks, Arvind Kejriwal refuses security
)
This was the second time that Mr Kejriwal has been attacked in the last four days. He has earlier also had ink, mobil oil and even an egg hurled at him. He has blamed these attacks on political rivals.
He tweeted today after the attack, "I am just thinking - why am i being repeatedly attacked? Who r the masterminds? What do they want? What do they achieve?... Let them tell me place n time. I will come there. Let them beat me as much as they want, but will that solve the country's problems?"
(Arvind Kejriwal punched in Delhi, attacker beaten by AAP men)
The man who attacked Mr Kejriwal today has been identified as Lali. He has reportedly accused Mr Kejriwal of "betraying auto-drivers."
On Friday, the AAP chief was punched while campaigning at Dakshinpuri in south Delhi. Then too, the attacker had been beaten by AAP workers before he was handed over to the police.
Weeks ago, Mr Kejriwal had reprimanded his party workers for assaulting a man who had attacked him in Haryana. The man climbed onto his jeep and hit him in the neck.
Last month, the 45-year-old was
sprayed with ink
and Mobil oil while campaigning in Varanasi, where he is running for Parliament against the BJP's prime ministerial candidate,
Narendra Modi
.