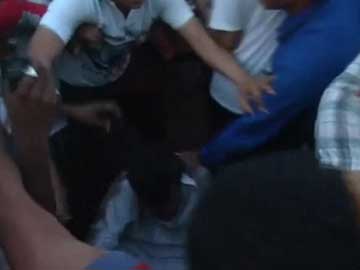 Bhiwani, Haryana:
As he was campaigning in Haryana today, Aam Aadmi Party leader
Arvind Kejriwal
was attacked by a man who was beaten up by party workers and then arrested.
"Someone hit me hard on my neck jst now. This kind of violent reaction is expected of them. It only shows their true character and desperation, (sic)" tweeted Mr Kejriwal, who resigned as Delhi's Chief Minister in February after a 49-day term. (
Arvind Kejriwal resigns: what next for Delhi?
)
The man climbed onto the open jeep on which Mr Kejriwal was travelling in Charkhi Dadri, about 125 km from New Delhi. The attacker claims to be a supporter of Mr Kejriwal's estranged mentor, activist Anna Hazare.
"But our supporters beat him up in retaliation. That is v wrong. That is not expected of us, (sic)" Mr Kejriwal said, also on Twitter.
"If we ever become violent, the movementwud be finished. So, pl pl pl, in future, if anyone hits us including me, we shud be nice to him, (sic)" he exhorted.
Mr Kejriwal was sprayed with ink earlier this week in Varanasi, where he is contesting the national election against Narendra Modi, the BJP's prime ministerial candidate. (
In Varanasi to challenge Narendra Modi, Kejriwal faces egg, ink attack
)
AAP has fielded candidates in all 10 Lok Sabha constituencies in Haryana, which votes on April 10.