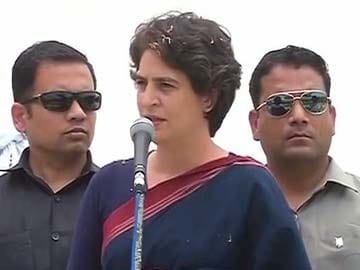 Amethi:
For the first time today,
Narendra Modi
, the BJP's prime ministerial candidate, who was campaigning in
Amethi
, attacked Priyanka Gandhi directly for her "arrogance." She was unflinching in her reply, vowing that Amethi "ka ek ek booth se jawaab aayega (each polling booth will exact revenge".) Without naming Mr Modi, Priyanka said, "They have insulted my martyred father in Amethi....the people here will never forgive him."
Amethi was the constituency of Prime Minister Rajiv Gandhi who was assassinated in 1991. His son, Rahul, older than Priyanka by a year, has represented it in parliament since he entered politics in 2004.
Priyanka's near-daily confrontations of Mr Modi through her public speeches has become the new normal of the final stages of the national election, which is expected to deliver a crushing defeat for the Congress.
So far, in his rallies, Mr Modi, 64, has been scathing of Rahul and his mother and Congress President Sonia Gandhi; he has accused them of helping Priyanka's husband,
Robert Vadra
, of amassing an illicit fortune through sweetheart land deals. However, he had been gentler on Priyanka, saying that he understands her need "as a daughter" to defend her mother and brother, whose campaigns she is managing.
Today's turnaround comes after Priyanka responding with a dismissive "who?" when reporters asked her yesterday about Smriti Irani, the BJP's candidate from Amethi. (
"Who?" Asks Priyanka Gandhi Vadra on Smriti Irani
)
"Look at the arrogance of the Congress, one of their leaders says 'Who is Smriti Irani?'," Mr Modi, 64, said today. (
In Amethi, Modi takes on Priyanka, slams her "arrogance"
)
Amethi votes on Wednesday.
Arvind Kejriwal
's
Aam Aadmi Party
(AAP) has put up Hindi poet Kumar Vishwas as its candidate.
In a litany of taunts to the Gandhis delivered at his rally in Amethi today, Mr Modi said, "Let them abuse me as much as they want to. There are just days left now... I'm glad I could at least serve as an outlet for their anger." (
Highlights of Narendra Modi's speech
)