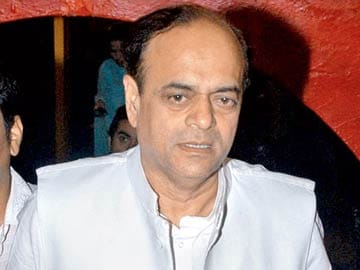 Mumbai:
Samajwadi Party state chief Abu Azmi tried to do some damage control in a press conference yesterday, after there was uproar over his statements. Azmi had told mid-day that women having sex, with or without consent, should be hanged. He had also said that if a woman was raped, she should be hanged as well, along with the perpetrator. (
Outrage after Abu Azmi says 'women having sex outside marriage should be hanged'
)
Seeking to clarify his stand, Abu Azmi said that no sane person would say such a thing. After reading transcripts given by another person, Azmi said, "I cannot make such statements and such people should be sent to an asylum." (
Elections: full coverage
)
He also mentioned that he realised the whole nation was angry with him and if he made such statements, he should be stoned. However, an SP spokesperson soon followed, saying that while there had been no misquoting or misprinting in the report, Abu Azmi had been portrayed in a bad light. (
Battle 2014: Track Live Updates
)
"There has been no misprinting or misquoting, but the way it has been presented is wrong. Azmi had cleared his statements in the same article," clarified the spokesperson.
Abu Azmi then spoke on the issue of premarital physical relationships, saying it wasn't about having sex before marriage or after marriage, but it being consensual or not.
"A woman who indulges in such activities with a third person apart from her husband is punishable by Islam," said Azmi. He further added that, at times, women misuse the law by framing grave charges like rape against men, if things turn sour in a relationship, which ultimately puts men in deep trouble. He also clarified that every individual has a right to react, including his son Farhan Azmi and daughter-in-law Ayesha Takia, who initially too had reacted strongly. (
Shamed by father-in-law Abu Azmi's statements, tweets actress Ayesha Takia
)
Azmi felt his views wouldn't affect his son Farhan's chances. Farhan Azmi is a contestant for the Mumbai North Central Lok Sabha constituency.
"I don't think that this will have any effect on Farhan's prospects in the elections. I have clarified that women victims cannot be punished," said Azmi. His son and daughter-in-law, actress Ayesha Takia, had clarified that they were embarrassed by his statements.
He also added that he hadn't received any notice from the National Commission for Women yet, although he is ready to explain his stand on the issue.