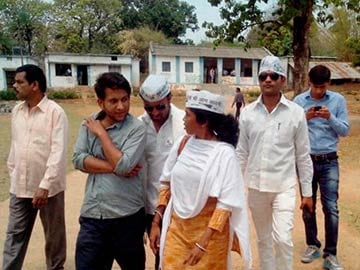 Raipur:
AAP nominee from Bastar Lok Sabha seat, Soni Sori was today slapped with a show cause notice for allegedly violating the model code of conduct by wearing her party's cap bearing its election symbol while casting her vote.
"We have issued a show cause notice to Sori seeking her reply over wearing the cap bearing her party's symbol (broom) while voting," Dantewada sub-divisional magistrate and election officer Shivanand Sai told PTI over phone.
"Although several informal complaints were received against her (Sori) in this connection, we have taken a suo motu action based on the footage of local TV channels," he said.
There were also complaints that Ms Sori was photographed by her supporters while casting her vote, he said.
Following her explanation, further action would be taken by the Bastar returning officer in this regard, he added.
When contacted, Ms Sori admitted to wearing the cap with her party's symbol. "I know (that) I have committed the mistake but my intention was not to violate the code of conduct. I was so stressed and tensed that I forget to remove cap and went inside polling booth," she said.
Ms Sori cast her vote in Kuwakonda region of Dantewada district. "I was very much stressed following my and my family members' harassment by CRPF. They abused my brother Ramdeo and nephew Linga (Lingaram Kodopi) and held them for hours due to which I had to rush to Bedma village to rescue them. CRPF men blamed me and my supporters for attacks on security personnel and tagged us as Maoists," she said.
Bastar recorded 52 per cent turnout amid unprecedented security arrangement and looming naxal threat.