New Delhi:
With the national capital having seen the season's worst air quality index (AQI) at 486 last week and the Indian Medical Association declaring a health emergency, hundreds of students of Shiv Nadar School, Noida have individually written a letter to Prime Minister Narendra Modi expressing concern over the emergency and suggesting measures that may help to counter the problem. The students had recently also conducted lung capacity and air quality monitoring tests and
developed a prototype of low cost air purifier.
The students, in their letter to the Prime Ministre, have suggested measures such as planting more trees and offering to volunteer for the cause; stricter imposition of banning crackers on Diwali, curbing burning of stubble by farmers, lowering the price of air purifiers, free distribution of air pollution masks and strict pollution checks of vehicles and industries for curbing the air pollution in the city.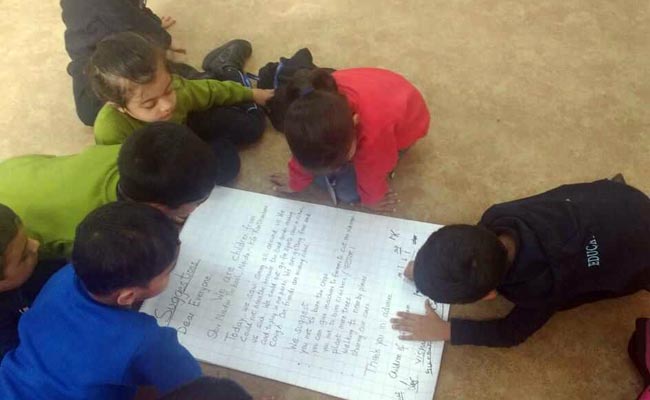 Students drafting letter to Prime Minister Narendra Modi
Rudra Sen, a grade 11 student, in his letter, said, "The particulate matter has increased to an alarming level, steps like artificial rain can also be taken if necessary. As students of Shiv Nadar School Noida, we are ready to volunteer to improve our environment."
Afreen Siddiqui, another student, wrote: "We need to spread awareness about the harm this pollution is causing to our lungs so that people wear masks and install air purifiers in their homes. People could start using metros and also carpool to minimize the number of cars on the roads."
On this effort of the students, Ms Shashi Banerjee, Principal, Shiv Nadar School Noida said, "According to recent health reports, air pollution causes deaths of around 6,00,000 children under five every year in the world. These letters to PM Modi not only show the angst of students at the toxic air quality that they are forced to breathe, but also highlights their hope and confidence in making a difference. I feel proud that we are raising a generation with a conscience and a thinking mind."
Click here for more
Education News
Follow NDTV for latest election news and live coverage of assembly elections 2019 in Maharashtra and Haryana.
Subscribe to our YouTube channel, like us on Facebook or follow us on Twitter and Instagram for latest news and live news updates.