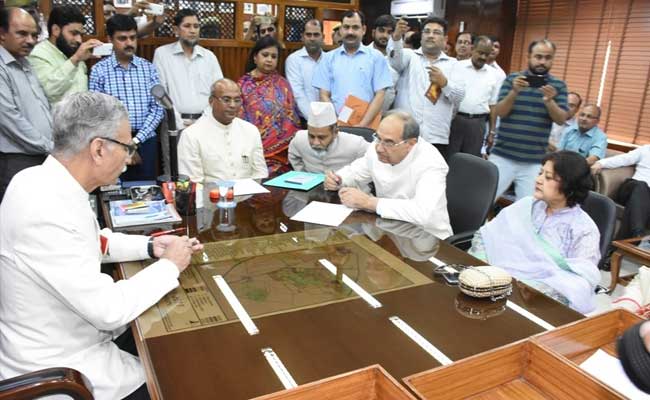 Aligarh:
Principal and CMS of Jawaharlal Nehru Medical College and Hospital (JNMCH), Professor Tariq Mansoor has taken up post as the Vice Chancellor of Aligarh Muslim University, following the completion of Lt General Zameer Uddin Shah (Veteran), who served as Vice Chancellor from May 17, 2012 till date. General Shah yesterday formally handed over the charge to Professor Tariq Mansoor at the Vice Chancellor's Office in AMU. Prof Mansoor has been appointed as the AMU Vice Chancellor by the President of India, Mr Pranab Mukherjee.
Professor Mansoor's name in the Panel for AMU Vice Chancellor designate was included after he secured the maximum number of votes by the AMU Court Members. Professor Mansoor has been associated with AMU for 35 years.
Born on September 20, 1956, Prof Mansoor is also an alumnus of AMU. He completed his MBBS from the JN Medical College, AMU in 1978 and MS (Surgery) in 1982. In 1994, Prof Mansoor completed FICS from the International College of Surgeons.
Prof Mansoor became the Principal and Chief Medical Superitendent of AMU's JN Medical College and Hospital in 2013. He had first started working at the college's Department of General Surgery as a clinical registrar in 1983.
In an
official letter
received from the Department of Higher Education, Ministry of Human Resource Development, Government of India earlier in the month; Mr Surat Singh, Deputy Secretary to the Government has stated: "I am directed to refer that in exercise of powers conferred under Clause 2 (1) of the Statutes of Aligarh Muslim University Act, 1920, the President of India, has been pleased to appoint Professor Tariq Mansoor as the Vice Chancellor of the Aligarh Muslim University, for a period of five years from 17.05.2017 or the date on which he enters upon his office, whichever is later."
The letter further stated that the terms and conditions of the services of Professor Mansoor as the Vice Chancellor of the Aligarh Muslim University will be those as set forth in the ACT, Statues and Ordinances of the University.
Prof Mansoor was Member, Executive Council, AMU in the years 1991-1994, 2002-2008 and 2013-2016.
Professor Mansoor was conferred with the 'Eminent Senior Surgical Teacher Award 2013' by Association of Surgeons of India (UP Chapter).
Click here for more
Education News