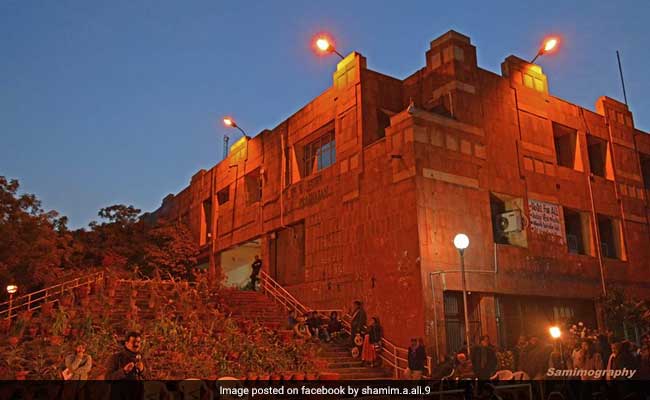 New Delhi:
Online application process has begun for
JNU admission 2017
. While JNU admission 2017 has garnered huge attention from candidates, dissatisfaction is also visible regarding reduction in intake numbers for various research seats. Seats have been reduced for various courses under MPhil, PhD, JRF and direct PhD programme. JNU MPhil, PhD admission has been the buzz since over a month. With the implementation of UGC guidelines, there had been huge protests and uproars. Following this the Delhi High Court had asked the University to withhold the admission process.
The varsity has released complete details of the admission including the admission process, exam schedule and dates of registration online at jnu.ac.in.
The JNU admission prospectus mentions a 'reduced' seat number for MPhil and PhD courses. The availability of 194 seats in comparison to 1174 seats of previous years has become the most noticeable thing along with 'no MPhil, PhD seats for many courses'.
The admission process which has begun immediately after
Delhi High Court's decision of dismissing the plea challenging UGC guidelines
has slashed off the seat numbers up to more than 80 per cent.
JNU Admission 2017 Seat Cut: Highlights
No seats for integrated MPhil-PhD course for much sought after subjects like physical sciences, computational and integrative science, biotechnology and Sanskrit
3 centres have seats in integrated MPhil-PhD courses at School of International Studies (the oldest school)
No admission to prestigious history and political science departments
2 departments of School of Social Sciences have seats for MPhil/ PhD
Highest intake for School of Computer & System Sciences
17 and 13 seats for School of Life Sciences and School of Social Sciences , respectively
There are many departments for which only one seat is open for admission: European Studies, South Asian Studies, Geography and School of Arts and Aesthetics.
The admission prospectus also mentions that, the current admission procedure has ended deprivation points for weaker sections in the research courses.
Further the University has also stated that, "The examination would be held on all India basis and question paper for the same would be as per UGC Regulations-2016 i.e. 50% Research Methodology and 50% Subject specific. The entrance examination would be of qualifying nature with 50% qualifying marks followed by viva voce. In case of any dispute in this regard, the provisions of UGC Regulations 2016 shall be binding."
Students have started posting their opinion and view over massive seat cut in JNU admission 2017. One of the posts mentions that apart from other departments, there has been a drastic reduction in seats for various courses in Science schools.
Amal Pullarkkat, Vice-President, JNU Students Union has given vehement opinion on the seat-slash. Statements like, 'Massive assault on Social Justice and Inclusivity by denying Research opportunity to the Marginalized!!', 'Students will not accept the Ludicrous Prospectus and Massive Seat Cut in Research at ANY COST!!!' have been posted over social media websites.
JNUTA President Ayesha Kidwai has stated in her social media post that, "The Centres of JNU were never even shown these figures, let alone consulted. UGC should immediately take action against the JNU VC!"
Near about 83 per cent of the research seats have been reduced for the academic year 2017-2018. While 102 seats are open for intake for MPhil/ PhD courses, a total of 194 research seats are available for admission.
Click here for more
Education News