New Delhi:
JNU Entrance Examination Results 2017-18 for Viva-voce examination has been declared on the official website of the varsity. According to a notification posted on the official website of Jawaharlal Nehru University (JNU), candidates selected for viva-voce exam for M.Phil. PHD in School of Life Sciences, the viva-voce will be conducted during 3rd to 8th July, 2017. The results can be accessed from JNU official website, jnu.ac.in.
For now, the university has declared the results of these programmes: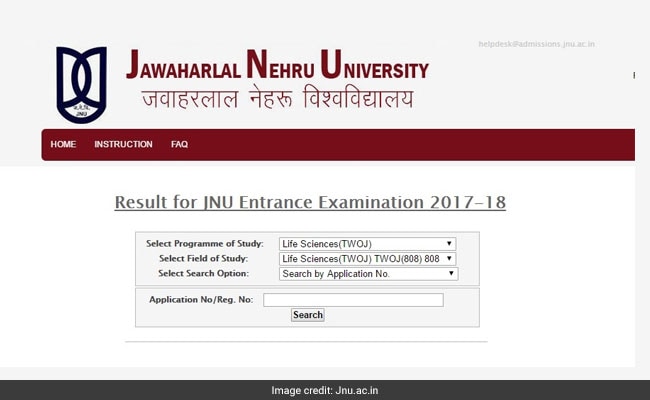 Computaional Biology & Bioinformatics
Life Sciences(ONEP)
Computaional Biology & Bioinforrnatics(CBBH)
Life Sciences(TWOJ)
Life Sciences(THRP)
Life Sciences(FORP)
Ph.D. (through JRF) in Computational Biology and Bioinformatics Computational & Integrative Sciences(CISM)
Life Sciences(THRJ)
Sanskrit Computational Linguistics (SCLC)
Life Sciences(TWOP)
Biotechnology(SBTJ)
Biotechnology(SBTH)
Pali(PALC)
M.Sc programme in Molecular Medicine(CMMM)
Life Sciences(ONEJ)
Life Sciences(FORJ)
Read also: JNUSU President, 2 Others Suspended From Varsity Panels
The specific details about the viva voce will be conveyed shortly through an email. Please click the link www.jnu.ac.in/sls for getting further information for viva-voce.
Click here for more
Education News
Get Breaking news, live coverage, and Latest News from India and around the world on NDTV.com. Catch all the Live TV action on NDTV 24x7 and NDTV India. Like us on Facebook or follow us on Twitter and Instagram for latest news and live news updates.