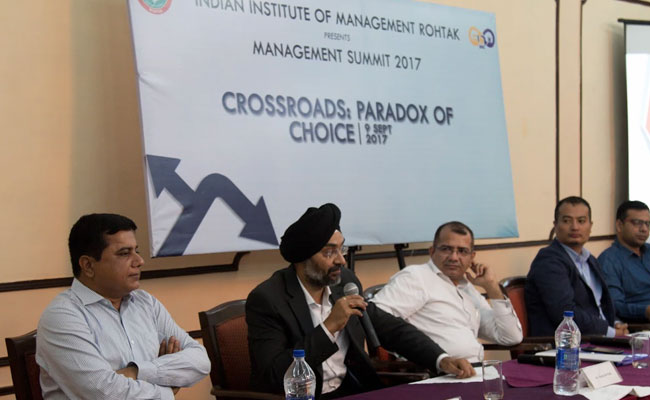 New Delhi:
Allaying fears that Artificial Intelligence (AI) would replace humans from all jobs, Mr. Vikram Jeet Singh, Vice President, KPMG, said, "Robotic Process Automation (RPA) is happening, there is no denying that. However, the robots can only do the recreative jobs without tiring. That will allow humans to focus more on value creation. Artificial Intelligence, for sure, is not going to take away all jobs".
Mr. Singh was addressing the students of Indian Institute of Management (IIM) Rohtak at a management summit organized by the institute at Chelmsford Club, Delhi.
"Managers should focus on the core business and build the services around them. Uber's core business is not aggregating cars but transporting a person from place A to B," he continued.
The theme of the summit, 'Crossroads: Paradox of Choice', attempted to counter the idea that having too many choices is a good thing. The summit was attended by dignitaries from various industry sectors as well as the media.
"Till 2008, only four companies were operating in the telecom industry when the government issued licenses to eight more companies. A price war ensued and by the time the market stabilized, Jio happened, resulting in a negative bottom line for all the competing companies ever since," Mr. Sanjay Maan, President, North and East region for Enterprise Business at Reliance Communications Ltd., said while speaking on the revolution brought about by Reliance Jio in the telecom industry.
Mr. Pankaj Doval, Senior Editor at Times of India, was all praise for development of social media becoming increasingly significant in the way people consume news.
"The press might have physical limitations; social media is now bringing to light the happenings even from the obscure places on the planet," he said.
When asked about the increasing space devoted to advertorials, Mr. Doval quipped, "I guess people love gossips".
"This is an age in which a journalist has to be correct every single time he chooses to cover news. A single snippet of wrong information and you lose the trust, not only of the audience who consume news but also of your whole office," Mr. Himanshu Shekhar Mishra, Editor, NDTV - Government Affairs, said while speaking about the challenges journalists face.
Mr. Deepak Jindal, DGM, HCL, Mr. Pankaj Sharma, President and Chief Risk Officer at Religare, Mr. Rajat Mathur, Director of strategy and operations at Deloitte, Mr. Vivek Ohri, Senior Principal with Accenture Consulting and Mr. Fela Chawngthu, Sales and Marketing leader at Adobe was also present at the summit.
Director, IIM Rohtak, Dr. Dheeraj Sharma said, "The purpose of the summit is to facilitate increased interaction between the academia and the industry. This will help in bringing the curriculum in sync with the industry needs."
He also celebrated the fact that IIM Rohtak is one of the few new IIMs that has ensured a cent percent placement record since its inception in 2009.
Click here for more
Education News