Indore:
The seventh batch of Integrated Programme in Management (IPM) began at Indian Institute of Management (IIM) Indore on August 1, 2017. A total of 121 students registered for the programme. The inaugural ceremony was graced by Shri Shivshankar Menon, Former Foreign Secretary. Professor Rishikesha T. Krishnan, Director, IIM Indore and Professor G. Venkat Raman, Chair, IPM were also present on the occasion.
In his inaugural address, Mr Shivshankar Menon began his talk mentioning that the world today is divided into two categories-one which includes culture, liberal arts, humanities and all the classical subjects like history, geography, etc.; and the modern category which includes hard sciences like physics, chemistry, maths, etc. which focus on hypothesis and scientific methods.
'However', he said that, 'there is a belief that the people from these two divisions do not understand each other. But great scientists like Aryabhata and Albert Einstein didn't think so. They were equally efficient at classical subjects-as they were in their own field. Steve Jobs also mentioned calligraphy and design as his passion, and turned out to be one of the most successful business icon'.
'Having interest in some other field, other than your own, helps you become successful manager in a better manner,' Shri Menon addressed the participants while sharing examples of personalities like Vikram Sarabhai and Homi Bhabha.
He also encouraged the students to start focusing on something innovative while studying interdisciplinary courses. 'It is important to integrate both the divisions' knowledge and learn, and then contribute to the society as a whole', he concluded.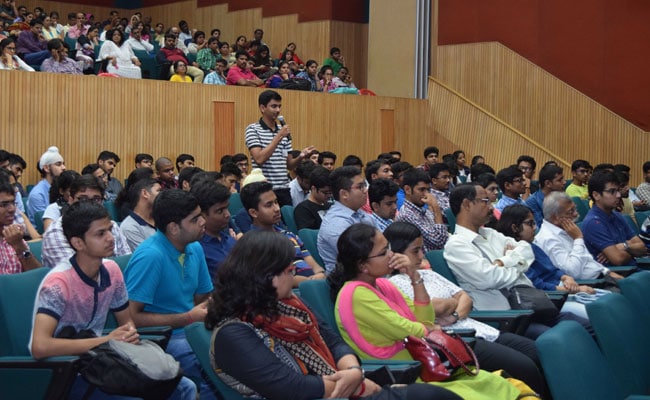 Professor Krishnan welcomed the new batch and noted that it is always exciting to have new students on campus. He said that the new curriculum of IPM is designed in a manner which will help the participants emerge as good leaders and managers.
Professor G. Venkat Raman then gave an overview of the IPM curriculum. He said that the new curriculum includes the 'Pillars'-Economics, Mathematics, Statistics and Social Sciences along with the 'Enablers' namely, Communication, Information System and various Bridge Courses like Business History, Government & Society, Basics of Accounting, etc.; and the 'Enhancers'-which include language and philosophy, arts, drama, music, sports and yoga as well. He noted that the curriculum will help in excellent overall development of the participants.

IIM Indore IPM Induction: Second day
Today, the second day of Induction Programme began with a session on disability by Ms. Rama Chari. This was followed by a talk on 'The Life Ahead' by Dr. Sameer Golwelkar and Dr. Sonia Golwelkar (Consulting Psychologists). Dr. Golwelkar began his talk mentioning that the young minds are like the fresh soil ready to cultivate. These students would be leading various organizations in the coming years and their effective skills would depend on the seeds sown at this time.
Discussing the difference between living and surviving, Dr. Golwelkar noted that we need to develop a bridge between our skills and compassion which would help enjoy life to the fullest. He also discussed how to look inside oneself, deal with self, add value to our character, address head-heart conflicts, understand human relationship and develop as a whole.
Read also: IIM Indore's PGP Welcomed By CFA Institute In To The University Affiliation Programme
The participants also attended counselling sessions by Ms. Prachi Agarwal, Counsellor, IIM Indore.
The third day of the induction programme would witness an interactive session with Mr. Saikat Mitra, Director, Trust and Safety, Google.
Click here for more
Education News