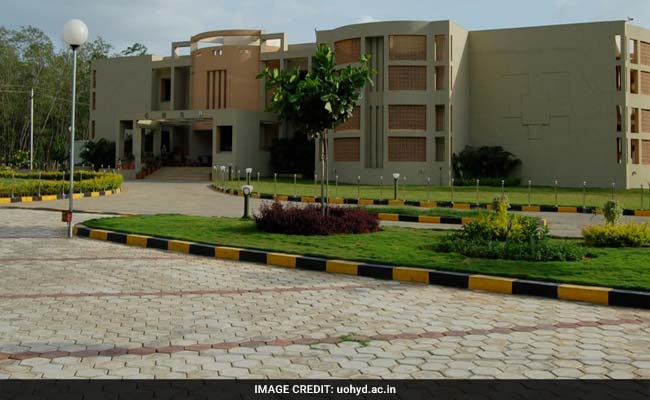 Hyderabad:
To promote open educational resources, the University of Hyderabad (UoH) through its e-Learning centre will develop online courses on the information technology platform SWAYAM. As a continuation of the E-QUAL (Enhancing Quality, Access and Governance of Undergraduate Education in India) project, UoH has adopted 'Online Educational Policy' and became the first Central University in the country to adopt such a policy which is a major achievement. Under this policy, the University has set up an e-Learning centre, UoH Vice Chancellor Appa Rao Podile told reporters here yesterday.
"The aim of the centre is to promote, implement online courses designed by teachers of the University, providing training to teachers on developing e-content by using enhanced technology of teaching and learning and operating, maintaining e-labs, virtual classroom, video conferencing room," he said.
The centre will also develop online courses on the SWAYAM platform (Study Webs of Active-Learning for Young Aspiring Minds), a programme of Ministry of Human Resource Development, he said adding there are plans to go for National and International collaborations for developing these courses. The Centre will initially focus on capacity building courses for both teachers and students.
E-QUAL is a European Union funded International Collaborative Project with a funding commitment of over one million Euros till May 2017. The project is being implemented by a consortium of partners including UoH.
Prof J Prabhakar Rao, Faculty Coordinator of India-EU project on E-QUAL, said UoH worked on Environment, Natural Resources and Sustainable Development and developed 44 hours lectures (modules) and it is available on E-QUAL website.
"Now, the courses are being evaluated by students and faculty of other universities. We want to take lead in the country in e-Learning and hence set up the e-Learning Centre We will paricipate in programmes of SWAYAM and UGC, and as per the UGC mandate, 20 per cent of the regular courses will be made online," Rao explained.
(Except for the headline, this story has not been edited by NDTV staff and is published from a syndicated feed.)