New Delhi:
Minister of Human Resource Development, Prakash Javadekar, has some advises for those students who have joined college this year. The minister in a letter asked the freshers who have joined the higher education institutions to realise who are paying for their studies and asked the students to remember them when they come out.
'The people of this country, especially the poor, are subsidising your education with their sweat and toil, and by the taxes that they pay and while you continue your study at least cost, please remember those who have actually paid for your education and your responsibility for their well-being when you come out the institution,' said the minister in a letter to freshers who joined higher education institutions.
Most of the universities and colleges across the country have completed the admission process to Undergraduate and Post Graduate courses right now.
'As you come to adapt to this new situation', the minister asked the students to 'focus both on the studies and the overall development' while they are in the campus.
'Millenniums's new voters'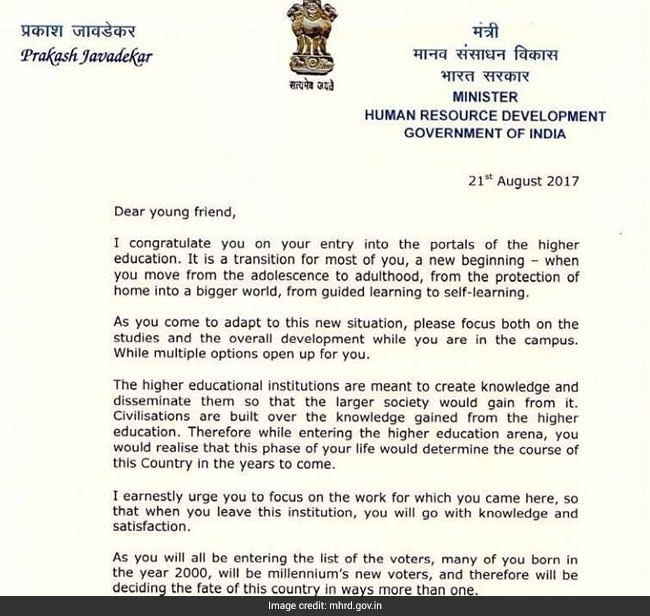 And the letter was clear about one thing: Millenniums's new voters.
"As you will all be entering the list of the voters, many of you born in the year 2000, will be millennium's new voters, and therefore will be deciding the fate of this country in ways more than one," the minister said.
The minister also reminded the students that the higher educational institutions are meant to create knowledge and disseminate them so that the larger society would gain from it.
The minister also claimed that the government has kept the fee in the higher educational institutions, especially the ones managed by the government, at the minimum.
Read also:
Patriotic Rock Band Concert For IITs And Central Universities Soon
HRD Junks Plan For NEET-Like Common Engineering Entrance Examination
All Untrained Teachers Need To Undergo Training: Nagaland Education Minister On HRD Directive
'Swasth Bachche, Swasth Bharat': HRD Minister Prakash Javadekar Launches KVS Initiative
Click here for more
Education News
For the latest News & Live Updates on Election Results from each assembly constituency in Madhya Pradesh,Rajasthan,Mizoram,Chhattisgarh,Telangana, like us on Facebook or follow us on Twitter for updates.