New Delhi:
Delhi University Students Union (DUSU) elections will be held on September 12. RSS' s Akhil Bharatiya Vidyarthi Parishad (ABVP), Indian National Congress' s National Students Union of India (NSUI), CPI (M)' s Students Federation of India (SFI) and CPI (ML)' s All India Students' Association (AISA) are the main contenders for the four central panel seats in DUSU Elections. In in the DUSU 2016 elections, ABVP had won the post of president, vice president and secretary. Last year, Congress's National Students Union of India (NSUI) was elected in the post of joint secretary. The ongoing DUSU is led by Amit Tanwar, Priyanka Chabri, Ankit Sangwan, Mohit Sangwan as president, vice president, secretary and joint secretary respectively.
The results of the DUSU elections are expected tomorrow.
DUSU polls will be held on the basis of the constitution of DUSU and Lygdoh committee recommendations accepted by the Supreme Court of India. University of Delhi introduced NOTA in last elections and a large number of voters preferred it.
The DUSU 2017 voting for the regular - day classes - students will be held from 8.30 am to 1.00 pm while the evening classes students will get chance to vote from 3.00 pm to 7.30 pm.
DUSU Elections 2017 On September 12, Results Day After; 10 Points
1
. The Delhi High Court allowed NSUI's Rocky Tuseed to contest the elections for the post of president after he has challenged the DU Chief Election Officer's (CEO) decision to cancel his nomination for the DUSU polls on grounds of disciplinary action. Earlier, NSUI had said Alka, a student of Shaheed Bhagat Singh College, would contest as its candidate for the presidential post in the DUSU election, after the nomination of Rocky Tuseed was rejected.
2
. Apart from Rocky Tuseed for president's post, NSUI has fielded Kunal Sehrawat for the post of vice-president, Meenakshi Meena (secretary) and Avinash Yadav (joint secretary).
NSUI panel campaigning for DUSU 2017 pic.twitter.com/NWHPLaDXFy

- NSUI (@nsui) September 6, 2017
3
. The ABVP has fielded a political science student from Motilal Nehru College, Rajat Choudhary as its president candidate while Paarth Rana, Mahamedhaa Nagar and Uma Shankar will contest for the posts of vice-president, secretary and joint secretary respectively.
@ABVPDUSU 2017 Panel
Rajat choudhary President
Parth rana V.P.
Mahamedha Gen. sec
Uma Shankar joint sec
Please vote & support #ABVP4DUSUpic.twitter.com/4oewhSEvlh

- #DUSUPolls (@ABVPDUSU) September 6, 2017
4
. SFI's candidate for the president's post Rafat Alam is an MA student from social work department. Jitendra Kumar is its vice-presidential candidate, and Kolisetty Lakshmi and Roshan have been fielded for the posts of secretary and joint secretary.
5
. The AISA named its candidates yesterday along with its manifesto. Parul Chauhan will be in the fray for the post of president, Aditya Baibhav for vice-president, Jaishree for secretary and Akash Gupta for joint secretary.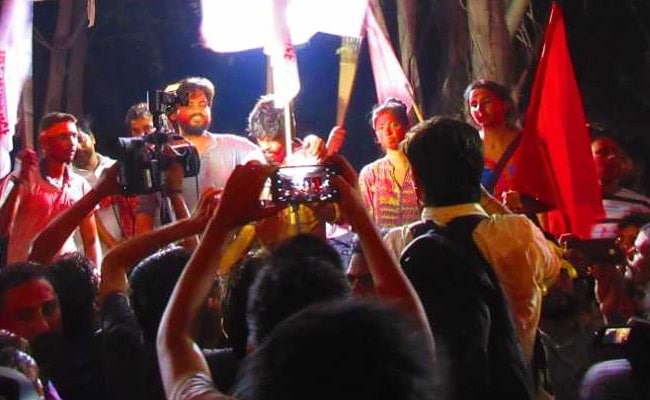 DUSU elections 2017: Left Alliance of AISA and SFI won the JNUSU elections recently6
. NSUI, the student wing of Congress asked for Electronic Voting Machines (EVMs) with Voter Verifiable Paper Audit Trail (VVPAT), and it also demanded that at least 5 per cent of the machine polling should be cross checked with the paper trail to build confidence among voters. The NSUI also demanded mock voting on all EVMs and appointment of party polling agents to ensure fair polls.
7
. The left-wing AISA's manifesto urged students to vote for quality education, gender justice and a violence-free campus and it also attacked the RSS-affiliated ABVP for hooliganism on campus, not fighting for infrastructure development and alleged apathy on issues concerning students. ABVP promised to make girl students feel secure inside the campus by conducting self defence training camps, police booths, women police staff, a mobile app and regular police patrolling. NSUI promised transparent and participatory DUSU budget, same university same course same free structure for all DU students, hostels, buses and concessional metro journey for the students.
DU students, plz go out to vote tomorrow. Defeat muscle money nexus
Vote AISA 5-1-1-1 for a pro-student DUSU



Parul, Aditya, Jaishree, Akash pic.twitter.com/7TOAvAx7r8- Shehla Rashid (@Shehla_Rashid) September 11, 2017
8
. The
Delhi High Court on Tuesday
allowed the Delhi University poll panel to declare the results of the DUSU election. Justice Indermeet Kaur modified her previous order in which she had asked the varsity not to declare the DUSU presidential candidates' poll results and keep it sealed.
9
. The Delhi High Court on Monday issued show cause notice to candidates of various parties contesting the DUSU elections as to why action should not be taken against them for allegedly defacing public property with their posters.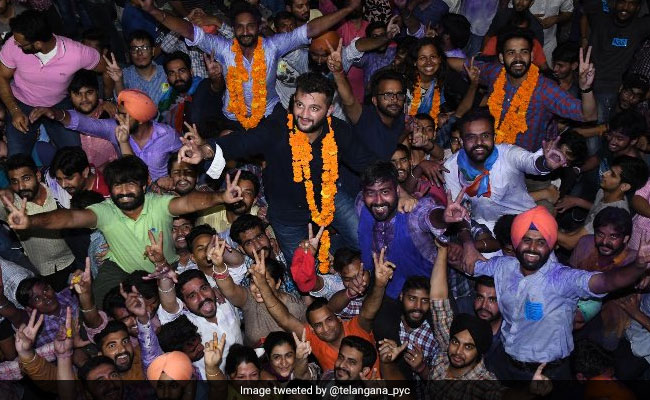 NSUI candidates celebrating Panjab University Students' Union win10
. ABVP, a powerful force in Delhi University, was managed to come second in all four central panel posts in recently concluded
JNU student union polls
, building on last year's two runner-up positions, while its strongest opponent in DU, NSUI's candidates fared poorly in the traditional left bastion. In a boost to the Congress, its student wing, won three key posts out of four of the Panjab University Campus Students Council (PUCSC) polls, the results of which were declared September 7.
(With Inputs from PTI)
Click here for more
Education News
(This story was first filed on September 11, 2017 and was updated several times thereafter)
Get Breaking news, live coverage, and Latest News from India and around the world on NDTV.com. Catch all the Live TV action on NDTV 24x7 and NDTV India. Like us on Facebook or follow us on Twitter and Instagram for latest news and live news updates.