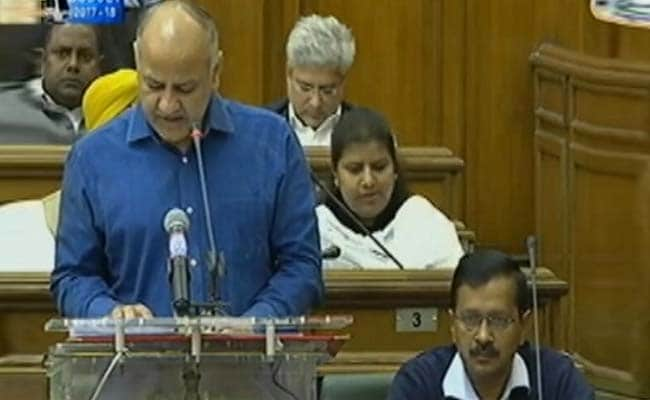 New Delhi:
Aam Admi Party (AAP) government of Delhi presented their third budget today and the Rs 48,000-crore budget for the national capital laid major focus on improving transport, health, water distribution and education infrastructure. In the budget which was presented today in the Delhi Legislative Assembly, the government alloted Rs 11,300 crore for education, which is 24% of the total Budget outlay. Last year, the budget allocation for education was Rs 10,690 crore.
Out of its Rs 48,000 crore budget for the next financial year, the Delhi government has earmarked Rs 5,736 crore for health, Rs 5,506 crore for Transport and Rs 3,467 for Social Security and Welfare.
"We were the first government to allocate maximum share to the education (sector) and this is the consecutive third year that we have been doing that," Manish Sisodia, Deputy Chief Minister who holds
Finance Minister portfolio of Arvind Kejriwal Government
Said. Mr. Sisodia also handles the education portfolio in the Delhi government.
According to the budget documents, the Delhi government is planning to star ten early childhood education centres. It also said that nursery and KG classes will be started in 156 government schools.
142 senior secondary schools in national capital will start commerce stream and teacher training center to be set up under the aegis of Ambedkar University, the budget said.
The budget also suggested to start a new campus of Delhi Technical University east Delhi from next academic year.
The Delhi government in its 2015-16 Budget allocated Rs. 9,836 crore for the education sector. It increased the spending in its 2016-17 Budget, allocating Rs. 10,690 crore for education -- 23 per cent of the total Budget.
(With Inputs from Agencies)
Click here for more
Education News