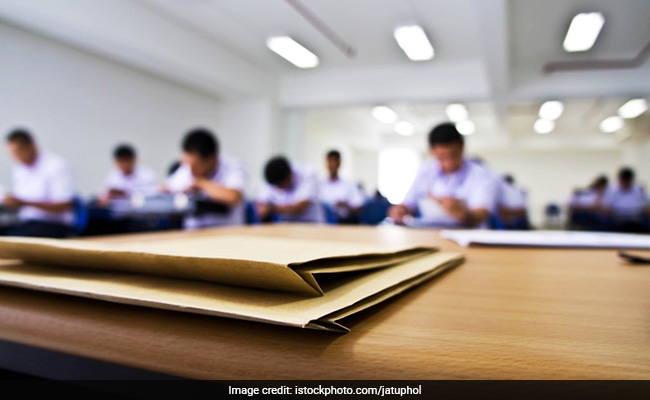 New Delhi:
CBSE board exams 2018 have begun today for class 10, 12 students. Class 12 students appeared for English exam today. The exams will continue till 13 April 2018 with Physical Education as the last paper. 'The CBSE class 12 English question paper was overall simple this year,' said Shalini Shenoym, PGT English, Vice Principal, Crescent Public School, Chalakudy, Kerala. 'The topics for note making, comprehension and the topics for writing skills look simple so students will certainly have a tendency to write and elaborate on different points, as a result, they may find the paper lengthy, and may fall short of time . But if they are prudent and answer quickly they can score above 90 easily, she further added.
'The paper was lengthy. Though overall it was an easy paper to attempt, but even short questions of 3 marks were thought provoking. There were easy topics in writing section,' said Ms Amrita Chaudhuri, PGT English, Mother's Public School (Bhubaneswar, Odisha).
'Every set had the same questions, differing in the question numbers,' said the teachers
More than 11 lakh students have registered for the
CBSE
class 12 exam this year; 87325 more students have registered for the exam this year in comparison to last year.
The exam began at 10.30 am and ended at 1.30 pm.
Overall, students termed it as a 'good' paper. The Literature section was easy, as was the previous year, and students found it easy to attempt.
As usual, writing section was lengthy. According to the teachers since the topics were simple, students found it easy to elaborate and that's where the paper appeared to be lengthy.
Comprehension section was also easier than it was previous year.
Exams Ahead
On 6 March 2018, class 12 students have Dance, Creative Writing and Translation Studies, Typography, Microbiology, Radiography II, First Aid & Emergency Medical Care, Child Health Nursing, Clinical Biochemistry & Microbiology II, Retail Services II, Information Storage & Retrieval, Introduction to Hospitality Management, Music Aesthetics II, Int. Trans. Oper, Garment Construction, Traditional Indian Textile, Salesmanship Electrical Machine and Capital Market Operations.
Our good wishes to students for rest of the exams ahead.
(With Inputs from Shalini Shenoym, PGT English, Vice Principal, Crescent Public School, Chalakudy, Kerala; Ms Amrita Chaudhuri, PGT English, Mother's Public School, Bhubaneswar, Odisha)
Click here for more
Education News