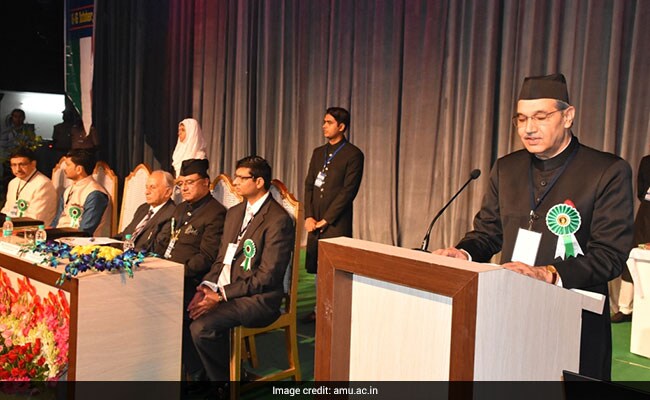 New Delhi:
It was walking down the memory lane for Aligarh Muslim University (AMU) alumni from different parts of the world as they reconnected with their alma mater at the Sir Syed Bicentenary AMU Alumni Meet-2017. The two-day meet began on October 15, 2017 at the university's Kennedy Auditorium and will conclude with a valedictory function on October 16, 2017. Presiding over the inaugural function, AMU Vice Chancellor, Professor Tariq Mansoor said that the AMU was established as the Mohammedan Anglo-Oriental College in 1875 and became a public central university in 1920 with the consistent efforts of its alumni.
He added that it is heartening to see how alumni from the United States of America, European countries, Middle-East, Mauritius and other parts of the world are connecting their successes with their alma mater and contributing in all possible ways.
Prof Mansoor discussed the enormous contribution of alumni through the Aligarh Open University (AOU), an initiative facilitated by the Federation of Aligarh Alumni Associations (FAAA), North America to share knowledge and professional experiences with current AMU students, said a statement from the university.
The Vice Chancellor further pointed out that he has established branches of Alumni Affairs Committee in all the departments of various faculties, which are connected with the central body of the Alumni Affairs Committee. "This is helping us to have a proper data base of alumni spread all over the world and to create an alumni directory," said Prof Mansoor.
He informed that a 'Sir Syed Endowment Fund' has also been started in which university employees and the AMU community is contributing generously. "With the fund, awareness on Sir Syed's mission will be created. Prof Mansoor also pointed out that with efforts of students and teachers and higher academic standards, AMU has once again been ranked on top positions by national and international ranking agencies.
Prof Tahir Mehmood (Former Chairperson, National Commission for Minorities, Government of India-GOI), who attended the function as the chief guest proudly said that members from four generations of his family including himself have studied at AMU.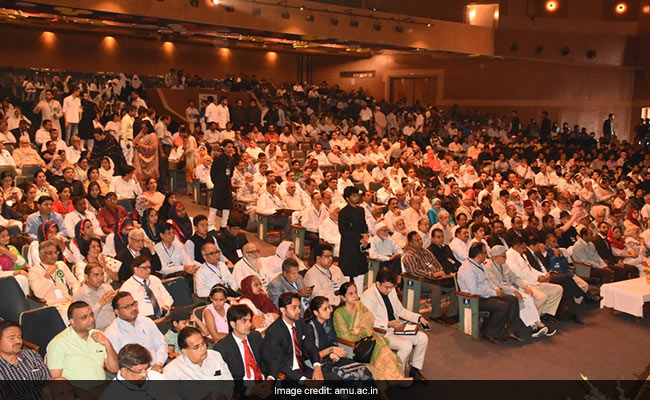 Mr Dawood Bin Uzair (CEO, Blue Star, Dubai, UAE) shared anecdotes from life, experiences and growing up as a second generation Alig (AMU alumnus). "I was born and brought up inside the campus and my father was a professor with the Department of Mathematics in AMU," said Mr Uzair.
Expressing happiness on being a part of AMU community, Mr Ambarish Kenghe (Senior, Vice President Myntra) said, "it takes a village to grow up a child." He added that he has attended AMU since his schooling and went on to graduate with the B Tech degree.
"The upbringing AMU gave me took me to greater heights as I was employed by Google and later Myntra," said Mr Kenghe. He delivered a motivational speech in which he urged students to think big and target bigger goals in life. Mr Kenghe also attended the function as a guest of honour.
Mr Abu Imran (a 2010 batch IAS officer) thanked AMU for making him familiar with Urdu language and poetry. He spoke on Sir Syed's mission of ardent reform and how he wanted to reconcile modern scientific thought among Indians by rationalistic interpretations and not by attacking basic belief system. Mr Imran said that Sir Syed always believed that religious differences should have no political and national significance.
On the occasion, AMU alumni, Mr Javed Akhtar and Mr Mehroz Ali invited the Vice Chancellor, Prof Mansoor to launch the 'Alig Connect', a social network website to link AMU alumni and students spread all over the world. A short video on the social network was also screened during the function.
Read also:
No, The 'M' In Aligarh Muslim University Is Not A Problem
AMU Vice Chancellor Visits Malappuram Centre
UGC Allocates About Rs. 90 Crore For Aligarh Muslim University
JMI, AMU, Jamia Hamdard, University Of California Come Together To Raise Research And Teaching Standards
Click here for more
Education News