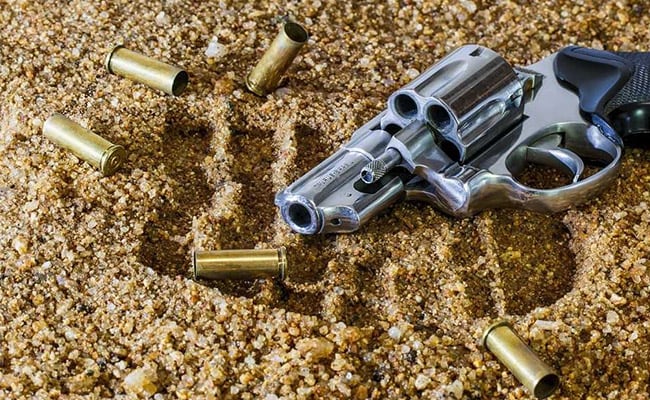 New Delhi:
A 38-year-old man, wanted in connection with killing two men and carrying a reward of Rs one lakh, was arrested following an exchange of fire, the police said today.
His associate was arrested last month in connection with the case.
On May 2, the accused were waiting near a temple at Bamnoli village where the road was broken and the drivers had to slow down their vehicles.
As the car carrying Sandeep alias Mental and his associate Pawan reached near them, three men fired at the duo and escaped on a motorcycle and a car, they added.
Sandeep alias Mental was a notorious gangster of the area and Pawan was his close aide.
During the course of investigation, it was found that one Rajiv alias Monu along with his associates was involved in the killing which was outcome of a dispute between him and his friend Sandeep over a property at Pochanpur village, Deputy Commissioner of Police (Special Cell) Sanjeev Kumar Yadav said.
It was learnt that he had gone to Mehdipur Balaji. A trap was laid near Balaji temple. On the morning of June 5, the police team spotted Rajiv in a white car but he managed to hoodwink the police team due to heavy rush of devotees at the temple and nearby area.
However, later the team tracked him in Delhi, said the officer.
In the evening, information was received that he would be visiting his hideout in Chhawla village via Rawata More. A trap was laid but he sensed the presence of police, Rajiv tried to escape, Mr Yadav added.
One of the police personnel fired a shot and deflated the vehicle's tyre. He came out of the vehicle and fired twice at the police team in a bid to escape. The police fired in retaliation and overpowered him.
A sophisticated revolver with four live cartridges was recovered from him, the officer said.
Along with his friend Sandeep, Rajiv had bought a property at Pochan Pur village. Both of them were involved in the construction activities on the property but they developed a dispute. Sandeep had threatened to eliminate him and his family. So he conspired to eliminate Sandeep, the officer said.
He was involved in 10 criminal cases of murder, attempt to murder, extortion and theft.