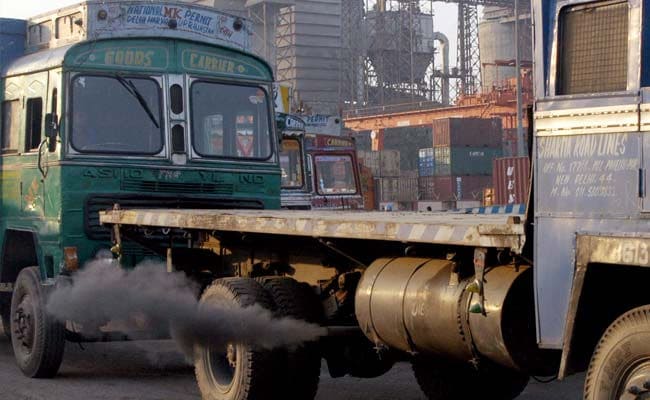 New Delhi:
Starting next month, diesel-guzzling trucks and commercial vehicles entering Delhi will have to pay a surcharge, after the Supreme Court today announced a trial plan to improve the capital's notoriously filthy air.
While large trucks will have to pay Rs 1,300 as the charge, smaller commercial vehicles will have to pay Rs 700 per entry. Through the Environment Compensation Charge or ECC, the Supreme Court aims to discourage trucks which are only transiting Delhi from entering the city.
Trucks are responsible for more than one-third of air pollution in Delhi, according to the Centre for Science and Environment. While figures vary, an estimated 40,000 to 50,000 trucks enter the capital through 127 entry points every day. Almost 13,000 of them just use Delhi as a transit route and are not destined for the capital.
While the civic body, Municipal Corporation of Delhi, will collect the money without any deductions, it will be handed over to the Delhi government every Friday. The top court has asked the Delhi government to use the money for improving roads, particularly for cyclists and pedestrians. The Delhi government will also have to inform the Supreme Court about its spending.
CCTV cameras will also have to be installed at all the entry points by January 31 to ensure the green tax is being levied.
Successive Delhi governments have been criticised for failing to curb pollution from industry and chronic traffic in the city of 17 million, ranked as having the world's worst air quality by the World Health Organisation.
After some details of the plan were announced last Friday, many environmental activists welcomed the toll, saying it would help to clear the capital's polluted air before winter starts, when quality deteriorates.
But campaign group Greenpeace India called the move a "temporary solution" that focused on diverting pollution rather than reducing it.