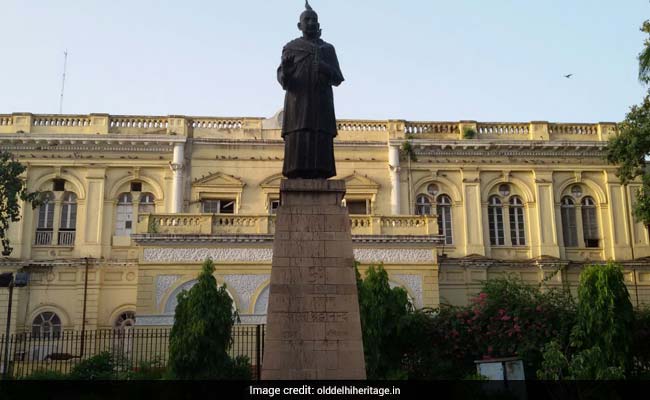 New Delhi:
Seeking to make owners and occupiers of havelis and other heritage houses in Old Delhi a stakeholder in the conservation process, the north corporation and INTACH will hold a thematic workshop at the historic Town Hall on Saturday.
The workshop on 'Conservation of Heritage Buildings in Shahjahanabad' has been jointly organised by the North Delhi Municipal Corporation (NDMC), Shahjahanabad Redevelopment Corporation (SRDC), and hosted by the Indian National Trust for Art and Cultural Heritage (INTACH).
It seeks to impress upon the heritage property owners to treat their houses as assets and not an economic liability.
"The NDMC came up with the initiative and approached us for the workshop. It is heartening that various stakeholders involved in the conservation process will come together and more so the heritage property-owners would be part of this exercise," INTACH Delhi Chapter Convener Swapna Liddle said.
A "special manual" for owners and occupiers of havelis and other heritage buildings in Shahjahanabad would also be released on the occasion.
The manual was commissioned by INTACH in 2015, but it could not released back then, she said.
"The illustrated volume is like a ready reckoner for such heritage property owners or those who live in it. It has a broad overview about the Shahjahanabad and its heritage, or Old Delhi as we now call it. It will also act as a reference point for them to understand the value of architectural heritage and work on its upkeep," Ms Liddle told news agency PTI.
The manual would be available in both English and Hindi.
Old Delhi is home to several havelis and heritage homes, many of which are in dire need of conservation. Some of the well-known ones include Chunamal ki Haveli, Khazanchi ki Haveli, Namak Haram ki Haveli, among other properties.
Nineteenth century Haveli Dharampura in Gali Guliyan has been converted into a heritage boutique hotel but many other such properties are awaiting restoration.
Conservation architect Aishwarya Tipnis, who worked on the manual in 2015, said, "The manual is meant to explain the concept of conservation of a heritage home to a lay person."
"It seeks to advise them about the upkeep of such properties and also prepare them for immediate intervention when there is any damage or other maintenance-related issues. So, if a roof is leaking, they would know its a problem and how to respond to that," she said.
It is an illustrated volume that will help people who own and live in such heritage properties to take timely decisions about the maintenance of their properties, Ms Tipnis added.
She had worked on a conservation of an old haveli in Shahjahanabad from 2010-2016.
A haveli owner would also be sharing his experiences of having a heritage property at the workshop.
The venue Town Hall is an over 150-year-old former headquarters of the erstwhile unified MCD. Owned by the NDMC, it is now proposed to become a heritage hotel.