New Delhi:
Highlights
BJP leaders allege heckling during meeting at Arvind Kejriwal's home
BJP files complaint against 5 AAP lawmakers
The meeting was held to discuss controversial sealing drive in Delhi
A meeting at Arvind Kejriwal's home to discuss the
controversial sealing drive
in Delhi lapsed into chaos today as a team of BJP leaders walked out and later alleged they had been "heckled and attacked" by Aam Aadmi Party (AAP) lawmakers who, they say, were egged on by the chief minister. A police case has been registered against five AAP legislators on the complaint of the BJP.
Mr Kejriwal accused the BJP leaders of walking out of the meeting because they were "afraid" of the media. "I arranged for them to sit down, have snacks with us. I arranged for us to sit and talk transparently, but the truth is BJP doesn't want the issue to be resolved," he told NDTV. He said his government would appeal to the Supreme Court to temporarily stop the sealing.
Delhi BJP chief Manoj Tiwari countered: "They abused us and attacked us in their home. This is urban Naxalism. I cannot believe this kind of gundagardi (hooliganism) can happen in a Chief Minister's house."
Over 600 shops across 100 shopping complexes in Delhi have been sealed over the past few weeks and traders have threatened a massive shutdown in protest.
An eight-member BJP team, including three MPs and three legislators, had asked for a meeting with Mr Kejriwal. The plan was to go in a joint delegation to Lieutenant Governor Anil Baijal with a request to stop the sealing drive, but that was not to be.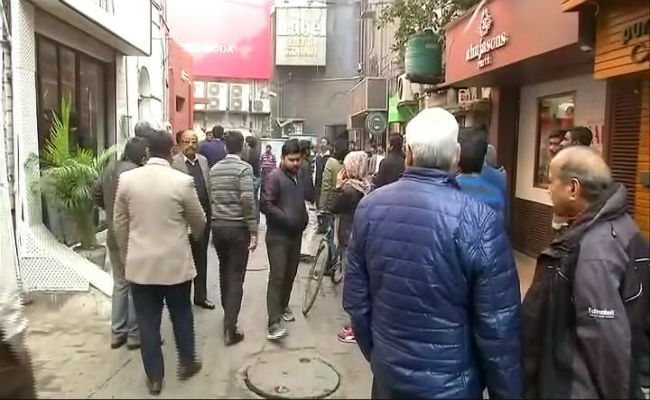 The BJP leaders stepped into a large conference hall packed with AAP lawmakers and media teams. Mr Kejriwal was accused of turning the meeting into a "rally" for publicity.
After a shouting match, the BJP leaders walked out.
Mr Kejriwal is heard in a mobile phone video saying, "
Dekho, dar ke bhaag gaye
(look, they ran away)". Other AAP lawmakers shout "
Sharam karo
(shame)".
Visuals showed jostling and slogan-shouting outside as the BJP leaders made their way through a large crowd.
Delhi's BJP-led municipal corporations have been sealing establishments that allegedly use residential properties for commercial purposes. The BJP, however, accuses AAP of causing the mess by sitting on a decision to designate 351 roads in the city as commercial-use.
Get the latest election news, live updates and election schedule for Lok Sabha Elections 2019 on ndtv.com/elections. Like us on Facebook or follow us on Twitter and Instagram for updates from each of the 543 parliamentary seats for the 2019 Indian general elections.