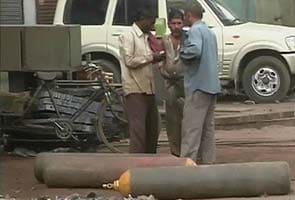 New Delhi:
Delhi Police has filed a chargesheet against six Delhi University teachers in the Mayapuri radiation leak incident that killed one and affected 10 people last year.
Six professors from the Chemistry Department - VS Parmar (Head of Department), AV Prasad, Ramesh Chandra Rastogi, Ashok Kumar, Rita Kakkar and Rooplal - have been charged under section 337 (causing hurt by act endangering life), 338 (causing grievous hurt by act endangering life), 304A (causing death by negligence) of the Indian Penal Code (IPC).
The matter will be taken up by the Metropolitan Magistrate court on September 21.
The Delhi Police has listed 60 witnesses in the case.
Last April, a metal pipe containing the radioactive Cobalt-60 found in West Delhi's Mayapuri scrap market was traced to Delhi University's Chemistry Department, where it was lying unused for the last 25 years.
The Cobalt-60 was in a "Gamma Irradiator", which was bought in 1968 from Canada and had not been in use since 1985 and was bought by scrap dealers in Mayapuri through an auction earlier in February, 2010.
Gamma Irradiators are used for sterilisation or decontamination. Gamma Irradiation kills bacteria and the process exposes products or substances to gamma rays, the most common source of which is the radioactive Cobalt-60.
The Mayapuri scrap dealers dismantled the equipment and in the process, the lead covering on it was peeled off leading to radiation exposure.
The people who were exposed to the radiation had to undergo extensive treatment. Scrap dealer Ajay Jain, 40, had to sell his shop to pay around 18 lakh rupees for his treatment. Deepak Jain, 33, another affected scrap dealer, had to shell out Rs 10 lakh.
The victims have also approached the Delhi High Court seeking compensation as the government, despite promises, had not compensated any of them.
Besides the high cost of treatment, the victims also suffer from ensuing health problems. Ajay Jain cannot walk as doctors had to peel off infected flesh, from some parts of his stomach, thighs and legs which were critically affected by radiation.
(With IANS inputs)