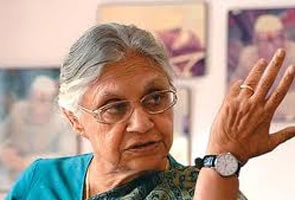 New Delhi:
Delhi Chief Minister Sheila Dikshit on Friday met Petroleum Minister M. Veerappa Moily to apprise him of the anomalies in the gas delivery system, which has caused problems in implementing the Delhi government's Kerosene Free Delhi programme.
The Chief Minister also urged Mr Moily to release 1.4 million metric standard cubic metres gas per day to allow Bawana Power Plant to operate at its full capacity of 750 MW.
The Bawana power plant is currently generating around 350 MW of electricity.
Mr Moily assured Ms Dikshit that the shortage at Bawana power plant would be tackled at the earliest.
The issue of late delivery, under-weight LPG cylinders and diversion of domestic cylinders to the commercial market were also brought to Mr Moily's notice, said a senior government official.
Since the security deposit for an LPG cylinder has been raised from Rs.1,400 to Rs.1,600, a large number of applications are pending with oil companies for release of connections under the scheme.
In August, the Delhi government launched the scheme under which Below Poverty Line (BPL) card holders, Antyodaya Anna Yojana and jhuggi ration card holders were to be given LPG cylinders, regulators, gas stoves and tubes.