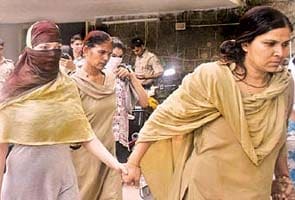 New Delhi:
Delhi police claim to have busted a high profile flesh trade racket operating from the Chhatarpur Enclave area of South Delhi on July 12. Five girls and two touts were arrested in this connection and an Audi and Santro were also recovered. According to the police, Najma Khan (27) was the kingpin of the gang that targeted high profile clients in South Delhi. While acting as an escort occasionally, she was single-handedly managing the network of call girls.
"We got tipped off regarding a prostitution racket near Qutub Minar area on July 12. According to our information, a tout in a Santro car was waiting there to be approached by potential customers, including tourists. Our men showed interest, following which the tout approached them. After replying to the enquiries about the call girls and other facilities being offered, the tout went away to bring the girls. Two girls then came in a white Audi car. The tout asked for Rs 40,000 and Rs 10,000 for the services of the girls," said Chhaya Sharma, DCP, South District.
She added, "Our men then complained about the high price. The tout agreed to take them to his madam's house, where, he said, other girls were available for a lower rate. He took them to a flat in Chhatarpur Enclave. The flat was raided and five girls and two pimps were apprehended. Two cars were also seized."
During the interrogation, it was revealed the girls were a part of the racket willingly to make an easy buck. Najma's family is based in Saudi Arabia. It is also believed that the touts, Vijay Bhatia and Sanjay Bhatia, are cousins to the infamous key player of sex rackets, Sonu Punjaban, who is currently in jail.
Reportedly, Najma led a luxurious life and was operating the racket from a well-furnished flat in Chhatarpur Enclave, Mehrauli. She used Audi A-4 series luxury car to send her girls and had a system of rating girls-1X, 2X, 3X, 4X and 5X. The prices ranged from Rs 5,000-50,000.