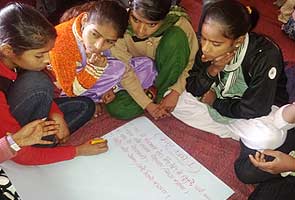 New Delhi:
India used protests once again today to make a national demand for change in laws and to insist on a swift trial for the six men accused of gang-raping a young student in Delhi on a moving bus on Sunday.
The victim is fighting for her life in a Delhi hospital where doctors have praised her "immense fighting spirit."
The chilling crime - the woman was first beaten with a gang rod and then raped for nearly an hour before being thrown with her friend from a bus - has infuriated the country, with people in different cities vowing that the grotesquery must not be reduced to another statistic.
National crime records show that 228,650 of the total 256,329 violent crimes recorded last year targeted women, with conviction rates for rape cases at 26 percent.
Women carrying posters that said "We want justice" reached the home of President Pranab Mukherjee today. They tried to stop the vehicle of a senior official at Rastrapathi Bhavan, demanding that they be allowed entry. Policemen said the crowd attempted to force its way into the official residence of President Pranab Mukherjee, but was later diverted to India Gate.
A group of children has also written to the President. "We hope you and the government will take a strong step to punish these bad men. We children would like to tell you that since we are angry we will want these men to be hanged but we think that will be an easy solution. The men will not repent, feel bad and sorry for what they have done to Didi who has been tortured and will have to live with this pain and fear all her life."
(Read full letter)
Signed by Delhi Child Rights Club (DCRC), the note says, "These bad men must be put in jail and locked in rooms all their lives till they die. Then they will everyday have to live with the shame of what they did to a girl, it will torture them all their lives."
(With inputs from PTI)