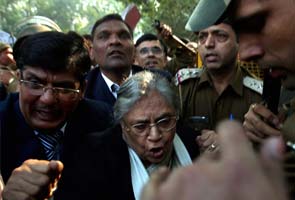 New Delhi:
Delhi Chief Minister Sheila Dikshit showed up this afternoon at the large protest in Delhi called in memory of the 23-year-old student who died in a Singapore hospital from the horrific injuries she incurred when she was gang-raped on a bus two weeks ago. However, as she lit a candle, the chief minister was surrounded by demonstrators and then taken away by her security.
Protesters later said they objected to her presence because they did not want today's demonstration to be politicised. Today's demonstration has been peaceful but determined, sombre members vowing that the student's sacrifice has reinforced their agenda for impelling change.
Around 500 hundred people have gathered at Jantar Mantar, the designated spot for demonstrations in Delhi. In the morning, the police sealed all access to India Gate which served last weekend as the epicentre of large protests that turned violent. Police in riot gear manned access routes to the monument.
Ms Dikshit was the first representative of the government to attempt joining protestors in a show of solidarity.
This morning, she appealed to the Home Minister Shushil Kumar Shinde to allow a rally today at India Gate. "Our hearts are burning with grief and shame," she said this morning about the student's death.
The government has been criticized for a welter of missteps as the country has channelled its anger and sorrow over the attack on the student into demonstrations demanding better policing, stricter anti-rape laws, and fast-track trials for sexual assault crimes.