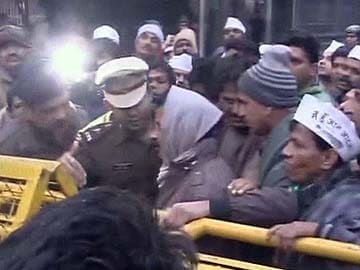 New Delhi:
On Day 2 of Chief Minister Arvind Kejriwal's protest against the Centre and Delhi Police, four metro stations in central Delhi are closed from early this morning and will remain so until further notice.
(Read Metro details here)
The police have also thrown three layers of security around the area where the chief minister is camped along with six ministers and about 200 Aam Aadmi Party or AAP workers, and has closed all roads leading to the Raisina Hill roundabout close to the site of protest.
(Track LIVE Updates)
There will be barricades, deployment of traffic cops and also paramilitary units.
Mr Kejriwal, who had announced a 10-day protest yesterday, said this morning that his sit-in would continue indefinitely till his demands are met.
The four metro stations - Patel Chowk, Central Secretariat, Udyog Bhawan and Race Course - being closed and roads in the area being blocked will mean much inconvenience for people who travel to work places on Parliament Street and other nearby areas.
Yesterday, in what led to a day-long war of nerves, the Delhi Police stopped Mr Kejriwal from proceeding to union Home Minister Sushil Kumar Shinde's office in the North Block to protest. Mr Kejriwal and his ministers then decided to launch their protest at the spot where they had been stopped - outside Rail Bhavan near India Gate.
The Delhi chief minister spent the night at the spot.
The protest has caused security concerns. On Sunday, the country celebrates Republic Day and the police have to sanitise the entire area for the massive parade that will be held here. There is also a heightened terror threat perception around big events such as this.
Mr Kejriwal has resisted all attempts of the Centre to get his protest moved to Jantar Mantar, despite the fact that the police have placed the area under prohibitory orders that outlaw the assembly of more than five people at a spot. This morning, senior cops were seen reasoning with Delhi minister Manish Sisodia, but the Delhi cabinet has refused to budge.
Mr Kejriwal dismissed concerns raised about the Republic Day parade being disrupted saying, "What is the point of celebrating Republic Day when the women of our country aren't safe."
Mr Kejriwal wants five Delhi Police cops to be suspended immediately for alleged dereliction of duty. He also wants the Centre to transfer control of the city's police to the state government.