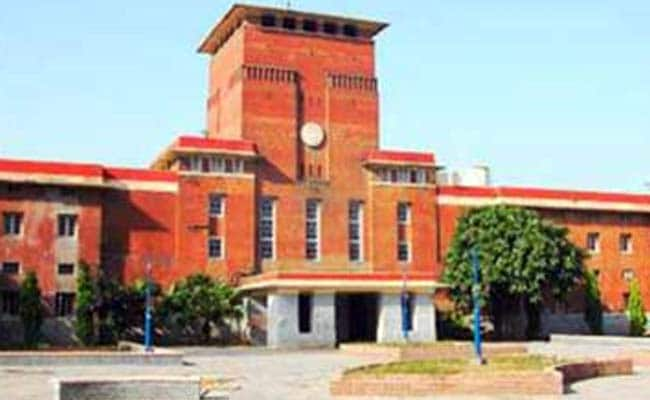 New Delhi:
Sky-rocketing cut-offs is not the only hassle for those aspiring to study at Delhi University, but also the shortage of hostel seats which has the students scrambling for private facilities.
Irked over inadequate availability of seats and absence of a standardised renting system in the national capital, a group of students, alumni and teachers have started a "Right to Accommodation" movement demanding implementation of Delhi Rent Control Act, 1995.
The university at present has 15 off-campus hostels and nine colleges with boarding facilities on their premises. Out of the nine, only five have accommodation for women.
For the estimated 1.8 lakh students enrolled with DU, there are only about 9,000 seats available in its hostels for both undergraduate and postgraduate students. The university admits an average of 54,000 students every year.
The admission to hostels is also on basis of merit and the competition for the limited seats is tougher for the students than securing a seat in any of the DU colleges.
"There are just handful of seats in DU and when the students look for accommodation outside, they are charged exorbitant rates by landlords. Security is also a major concern. Sometimes students prefer to give up on a seat in a better college if they are able to secure a hostel seat in another college," says Praveen Kumar, a DU alumni and co-ordinator of the Right to Accommodation movement.
The group, has been protesting since last three years over the issue but an increase in seats as well as implementation of the Room Rent Control Act has remained a far cry.
"The act calls for rationalisation of room rent and we have started a two-and-half months long padyatra across the city to garner support on the issue. The movement which started on May 11 from Rajghat will conclude at university's North Campus and will cover every nook and corner of the city," he added.
The Delhi University Teachers' Association (DUTA) too has come out in their support and urged the HRD Ministry to increase the outlay for infrastructure.
"Under Section 33 of the DU Act, the university is bound to provide for every student's accommodation but the administration remains indifferent.
"Even in foreign universities where adequate residential facilities aren't available on campus, they tie up with certain private accommodations and provide a list to students to ensure they move into a property registered with them which meets the required standards and charges are nominal," DUTA President Nandita Narain said.
DU authorities, however, maintained that implementation of the Room Rent Control Act is under Delhi Government's purview and it is trying its best to provide accommodation to as many students as it can.
"We also know there is shortage of hostels but these things take time. It is not possible to provide accommodation to each and every student but proposals for more hostels are under consideration. Many things have to be taken into account," a senior university official said.
The off-campus hostels include boys-only Gwyer Hall and Jubilee Hall, Mansarover Hostel for Boys, Postgraduate Men's Hostel, D S Kothari Hostel for Boys, V K R V Rao Hostel for Boys, Meghdoot Hostel for Girls, University Hostel for Women, North Eastern Students' House, Ambedkar-Ganguly Students House for Women, Saramati Post Graduate Men's Hostel, Aravali Boys Hostel (South Campus), Geetanjali Hostel for PG Women, WUS University Hostel for girls and Rajiv Gandhi Hostel for Girls at Dhaka Complex.
Colleges with hostel facilities are Daulat Ram College, Hindu College, Kalavati Gupta Hostel, Indraprastha College for Women, Kirori Mal College, Lady Shri Ram College for Women, Miranda House, Hansraj College, Shri Ram College of Commerce and Sri Venkateswara College.