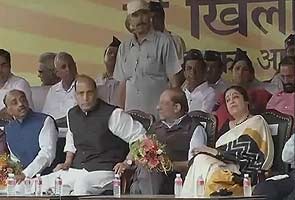 New Delhi:
The Bharatiya Janata Party (BJP) virtually kick-started its election campaign with a rally in Delhi today in which its top leaders launched a scathing attack on the Sheila Dikshit government on a range of issues including power tariff hikes.
The BJP also unveiled a "formula" to cut the power rates by 30 per cent hoping to return to power in Delhi after 15 years.
"This huge, very huge rally at Ramlila Maidan has sent a strong message that now no power in the world can stop the current government in Delhi from losing the election," BJP president Rajnath Singh said.
Apart from Mr Singh, Delhi election in-charge Nitin Gadkari and other senior leaders of the party's state unit were also present.
Delhi BJP chief Vijay Goel alleged a "massive scam" in the power sector in the state and claimed that consumers are being "fleeced" by the private power distribution companies in cooperation with the state government.
"To pay electricity bills, you will soon have to take loans from banks. It's not a BJP rally, it is an 'aakrosh rally'. It is a movement against the exploitation. If voted to power, we will reduce the tariff by 30 per cent. If my formula is followed, the Chief Minister can cut tariff from tomorrow onwards," he said.
Explaining his formula, Mr Goel compared the power sector with telecom sector and wondered why the electricity tariff cannot be brought down if competition is encouraged among various discoms.
"In 1996, mobile rate for incoming and outgoing was Rs 16 and now it is 30 paisa. Because of competition, the rates came down. The day we come to power, we will make the discoms compete with each other. We will cut tariff by 30 per cent if we come to power," Mr Goel said.