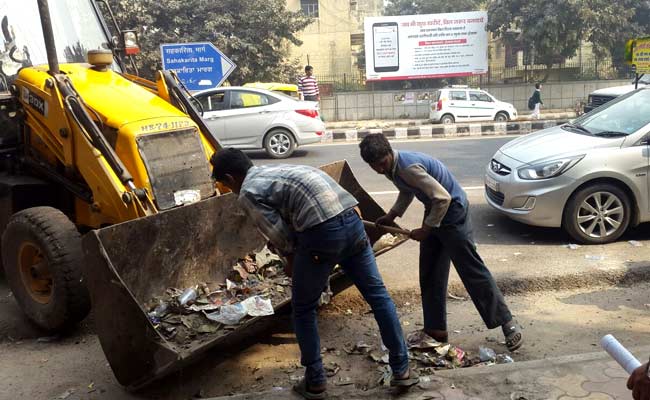 New Delhi:
Accusing the Arvind Kejriwal government of not releasing the money due to it, the North Delhi Municipal Corporation on Tuesday told the Delhi High Court that it has no money to pay sanitation workers' January and February salaries.
A division bench of Chief Justice G Rohini and Justice Jayant Nath asked the central government and the Delhi Development Authority to file their response on the PIL seeking release of salaries of municipal workers and posted the matter for February 10.
The North Delhi Municipal Corporation said it has paid salaries of sanitation workers till December 2015, but "we have no money to pay their salaries for January and February," advocate Monica Arora told the bench.
The government has to release Rs 621 crore to it and Rs.154 crore towards municipal relief funds, she added.
"North Delhi Municipal Corporation has been undergoing unprecedented financial crunch on account of which salaried of all categories of employees have been delayed. Inspite of all the adverse conditions, salaries of safai karamcharis have been released on first priority," she said
The Delhi government, however, vehemently denied that the non-payment of salaries or arrears to employees of civic bodies were due to non-release of funds and instead blamed it on "the massive financial mismanagement" by the corporation.
It told the bench that entire fund to civic bodies and also alleged that MCDs have failed to collect the property tax from the DDA to the tune of Rs. 1,555 crores.
The East Delhi Municipal Corporation (EDMC) also told the court that government has not released the amounts due to it - as per the Delhi Finance Commission - which has escalated to Rs.627.93 crore in the last four years.
The EDMC said salaries of its workers are released upto December 2015 but, as of January 2016, Rs 217 crore is needed to make upto date payments of salaries to all categories of employees including pension to retirees.
But the state government denied the claims.
"Municipal corporations have been attempting to get their statutory nonfeasance excused or justified by creating a bogey of non-release of funds by the answering respondent," it said, adding 100 pe rcent of the revised estimates of 2015-2016 amounting to Rs 892.92 crore, Rs 465.53 crore and Rs 830.41 crores for North, East and South civic bodies respectively, under non-plan heads, has already been released.
The court was hearing a PIL seeking release of salaries of municipal workers. The employees of three civic corporations have been on strike since January 27, demanding payment of salaries and pending wages.