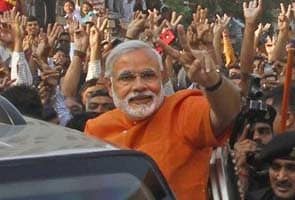 New Delhi:
Narendra Modi
, who just five days ago led a massive rally in Bhopal which the BJP described as "record-breaking", is set to follow it up with another mega show in Delhi today. And his party is pulling out all stops to ensure that today's rally in the national capital is a bigger success.
Mr Modi, who was recently declared as the BJP's prime ministerial candidate, will addressing the 'Vikas rally' (development rally) which his party hopes will help swing its electoral fortunes in polls, due in November. The party was trounced by the Congress in the last three elections in Delhi.
The BJP says that it expects at least five lakh people to attend the event that is expected to begin at 10 am. The party says it has sent out invites to nearly 80 foreign missions with about 35 missions confirming their attendance in what is being viewed as an aggressive, parallel campaign for Modi-as-the-next-PM in front of an international audience.
(Read)
The hectic preparations at the venue of rally match up. An 80x40 ft stage has been erected at the sprawling Japanese Park in Rohini in north-west Delhi where Mr Modi, expected to arrive in a chopper, will be delivering a 45-minute-long speech and will later unveil his 100-feet-long portrait.
A sophisticated sound system and giant LED screens at the venue have been installed at the ground. For maximum coverage of the event, screens have also been installed at several places in the city that will broadcast his speech live.
Security, too, is stringent as dozens of CCTV cameras and hundreds of private security guards will keep an eye on the massive crowds. Around 3,000 policemen and paramilitary personnel will also provide security in and around the venue.
Special buses have been arranged to bring in students and supporters from far-flung areas of Delhi. The Delhi Metro, in fact, will run extra trains and feeder buses as it anticipates a huge rush.
(Read: Delhi Metro makes special arrangements)
A traffic advisory has also been issued as major jams are expected at several places due to the event.
(Read)