New Delhi:
Congress leader Shashi Tharoor today launched the party's people connect campaign for the MCD polls as he discussed with morning walkers at Jahanpanah Forest Park ways to improve municipal schools in the city.
He pledged that the Congress would formulate effective policies to improve the quality of schools run by three municipal corporations if voted to power in the civic bodies.
"It is a matter of shame that in the national capital more than 50,000 students quit from primary MCD schools in the last three years," he claimed.
Mr Tharoor said none of the municipal schools in Delhi had started any computer education programme while many others "lacked" even the basic facilities like proper seating arrangements for the kids.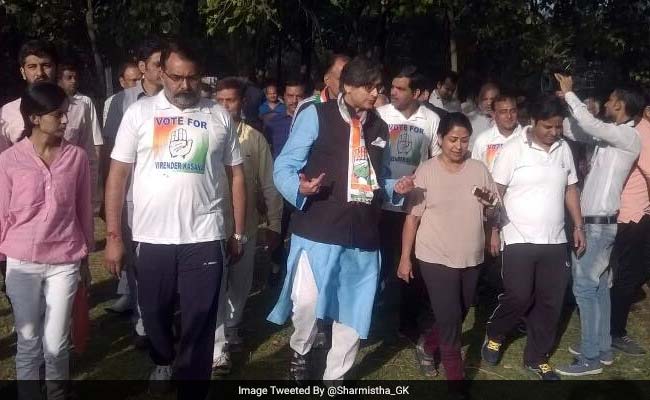 "It is shocking that official statistical reports indicate that majority of MCD schools force children to sit on the floor for taking classes.
The Delhi Congress has prepared a roadmap for improving quality of municipal schools in Delhi.
The former Union Minister of State for Human Resource Development also promised to people that the Congress would provide free health insurance for all students of MCD schools after coming to power in the civic bodies.
He also attacked the Arvind Kejriwal government for the "dipping" pass percentage of students and dropout rate in government schools.
"Almost 1 lakh students had quit Delhi government schools. While the pass percentage of class 10 students was 98.4 percent in the Congress regime, the same has now dipped to 91.76 percent under the AAP government," he said quoting the Delhi Statistical Survey report.
Similar interactions will be held in the coming days with senior Congress leaders Salman Khurshid, Girija Vyas and Ajay Maken visiting different parts of the city to discuss with the people issues of primary health, environment and problems of street vendors.
For the latest News & Live Updates on Election Results from each assembly constituency in Madhya Pradesh, Rajasthan, Mizoram, Chhattisgarh, Telangana, like us on Facebook or follow us on Twitter for updates.