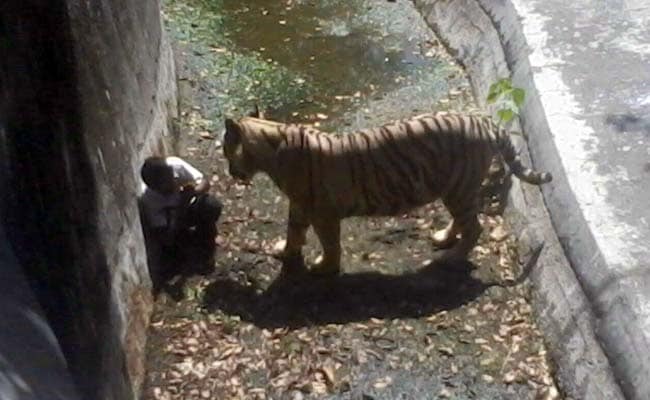 New Delhi:
The government has put the onus on the 22-year-old youth who was mauled by a white tiger in Delhi Zoo last year, saying he had defied warnings and landed in the enclosure due to his "misadventure".
The enquiry report by a committee appointed by Central Zoo Authority, constituted soon after the death of the youth on September 23 last year, said the zoo staff of the National Zoological Park here "did their best in the prevailing circumstances and cannot be faulted for not being able to save Maqsood's life".
The report, which was filed in Delhi High Court before a bench of Chief Justice G Rohini and Justice Jayant Nath, however, said "once such an accident has taken place, concrete plans to prevent any such happening have to be prepared and implemented".
"The committee is of the view that Maqsood landed in the white tiger enclosure only through his misadventure because of his obsession for tigers...
"Maqsood entered the tiger enclosure on his own defying the displayed warnings and the verbal warning given by the security staff of the enclosure," the committee report, filed by central government standing counsel Jasmeet Singh, stated.
The report was submitted before the court on a plea filed by the deceased's wife who had claimed that the government was liable to pay compensation for their "act of negligence, safety and security lapses which resulted into the tragic death of Maqsood who was mauled to death by a white tiger at National Zoological Park here on September 23".
The youth's wife had also sought compensation of Rs 50 lakh from Centre, National Zoological Park, Delhi government, Central Zoo Authority, a statutory body under the Ministry of Environment and Forests and the Delhi Police Commissioner.
While Delhi government's forest department had said it was "not competent" to award compensation as the Zoo was under the jurisdiction of the central government, the Centre stated that the zoo was yet not in stage of preparedness to deal with such emergencies in professional manner.
"Lots of technical expertise and implementation of well-developed plans are required to reach the desired level preparedness. However, zoo authorities cannot be blamed for this as the process of evolving such strategies has started only recently," the report said.
The counsel for Centre further submitted that there is a committee, likely to be constituted, to look into this kind of mishaps.
To which the court asked the Centre to file an affidavit before December 2, stating whether any such committee has been constituted to look disaster management.
The court was also hearing a PIL filed by advocate Avadh Kaushik, who sought direction to the authorities to take steps to ensure that no such incident is repeated in future.
He said that Maqsood's life was lost as the authorities had failed to discharge their duties and they have no emergency or contingency plans to rescue the people from such untoward incident.