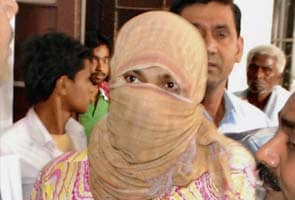 New Delhi:
A 22-year-old man, who is accused of raping and mutilating a five-year-old girl in the national capital, was arrested from Muzaffarpur in Bihar late last night.
The accused, Manoj Kumar, had come to Muzaffarpur by train from Delhi after the incident. He is a native of Bharphua village of the district, according to reports. Kumar was traced after tracking the location of his mobile phone, police sources said.
He recently got married and his wife had left for Muzzafarpur a few days before to the crime. He was produced in a local court this morning and will be brought on transit remand to Delhi.
Kumar allegedly raped the five-year-old girl at his rented accommodation in east Delhi's Gandhi Nagar. The girl and her family stayed in the same building.
The five-year-old was kidnapped on Monday while she was playing outside her home, and was then kept captive in the basement of the same building where she lived by a man who rented a room there about a week ago. On Wednesday evening, it was not the police but neighbours who found her after they heard her cries.
Doctors at the All India Institute of Medical Sciences (AIIMS) in Delhi, where she is undergoing treatment, said this morning that her condition was stable.
The barbarous attack on the girl - she was violated with pieces of a candle and a bottle - has outraged the city. Through Friday, protestors shouted slogans against politicians and the police at the hospital where she was being treated in East Delhi till she was moved to the All India Institute of Medical Sciences (AIIMS).
Security is very tight at AIIMS after protests erupted this morning demanding justice for the victim and punishment to policemen who allegedly did not help locate the girl who went missing on April 15.
Meanwhile, the Union Home Ministry has sought a report from the Delhi Police on the progress in the case.
Since December, when the fatal gang-rape of a student on a Delhi bus stunned and incensed the country, the city's police and government have vowed that no effort will be spared to protect women. But a slew of attacks, many of them against young girls, prove that despite the introduction of tougher anti-rape laws and pledges of better policing, little has changed for a city titled "the rape capital" of India.