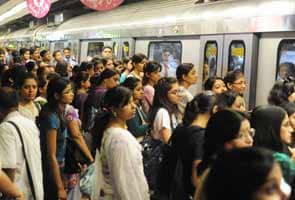 New Delhi:
Weeks after video clips of couples getting intimate on metro trains found their way to pornographic websites, the Delhi Metro Rail Corporation on Tuesday asked commuters to maintain "decorum" and "etiquette" while travelling on the rapid transit system.
"The DMRC has passed on this video clip to its Chief Security Commissioner (CSC) for investigation. The earlier video clips of similar nature are also under examination by the Cyber Crime cell of the Delhi Police," Anuj Dayal, Executive Director (Corporate Communications) of DMRC said.
He said DMRC "appeals to the public to maintain decorum, discipline and etiquette while traveling on the mass transit system,".
Earlier this month, video recordings of couples getting intimate on metro trains was leaked on the Internet, specifically some pornographic websites.
The Delhi Police has been investigating the matter.