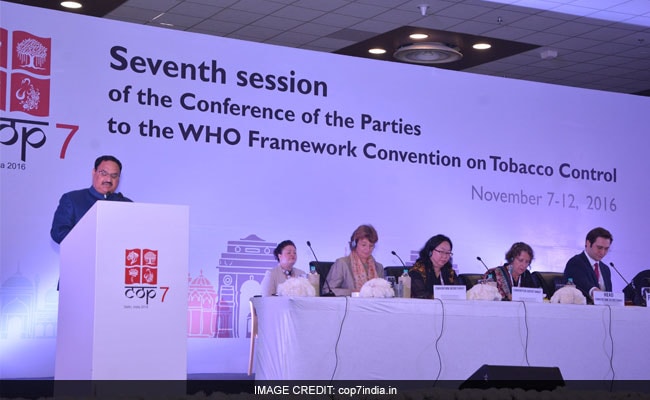 New Delhi:
Three prominent hotels in the national capital, where the delegates of the ongoing anti-tobacco conference COP7 are staying, have been declared 'tobacco-free', in line with the Delhi government's campaign against its consumption.
Delhi Health department has written to the three hotels -- Leela Ambience near Yamuna Sports Complex, Crown Plaza and Holiday Inn in Mayur Vihar-- asking them to comply with the tobacco control laws and also appoint a nodal officer to check its consumption on their premises.
"You must be aware and just to remind you that the conference jointly organised by Government of India and WHO FCTC is being held at India Expo Centre, Greater Noida."
"Your hotel is one of the few hotels, officially selected for the stay of delegates who will distinguished political dignitaries and high rank officers of 180 countries."
"In larger public interest and also in view of COP7, you are requested to implement and strengthen the tobacco control laws as a part of Tobacco free Delhi initiative," Dr S K Arora, Additional Director (Health), said in a communique to the hotels.
The hotels have been asked to display the necessary tobacco-free zone boards at strategic points along with tobacco-free vehicle stickers in the taxis and coaches carrying the guests.
When contacted, Dr Arora said, "We have asked them to ensure there is no sale or promotion of tobacco products (both direct and surrogate both), use of e-cigarettes and hookah within the tobacco free zone area."
"We may also implement this measure in other hotels and restaurants of Delhi," he added.
He stressed that particles smaller than 2.5 micrometre (PM2.5) are major components of cigarettes smoke and can enter deep into lungs to cause serious health problems.
"It is worth mentioning that tobacco smoke is one of the leading cause for spreading environmental pollution. The PM2.5 mass emitted by a cigarette on an average is around 10-15 mg which can cause high indoor pollution if smoked at home or in a car," he said.
As per WHO data, in India around 50 per cent adults are exposed to second hand smoke at home and 29 per cent at public places.
Around 9 to 10 lakh people in India die every year because of tobacco consumption.